Have you noticed how federal government statistics tell you that the economy's getting much better, and how most people don't feel like the economy's getting much better? There is a way to explain this, and it's called money velocity.
Money, of course, is the key to the economy. But more important is the speed -- or velocity -- at which money flows through the economic system. You know -- how fast people make it, spend it, and invest it. You can measure that speed, and right now, the pace is very slow.
The chart below, supplied by the St. Louis branch of the Federal Reserve, measures money velocity. As you can see, right now, amid vast amounts of both monetary and fiscal stimulus, money velocity is slowing down. This is not the profile of an economy that is roaring ahead or in any danger of overheating.
Without growing money velocity, you cannot have a meaningful recovery. "How is this possible, at a time when the federal government is pumping money into the economy?" you might ask. It comes down to where that money is going. And it appears that much of it is being hoarded, especially by banks that are reluctant to lend. The government might be printing money, but it doesn't look like the cash is going anywhere.
The money multiplier is another way to assess monetary conditions. The multiplier measures what happens to a dollar being pumped into the economy, and what happens after that. In our fractional reserve banking system, the money multiplier is typically above 1. That is, every dollar pumped into the banking system creates more than one more dollar in economic activity (a multiplier effect).
Because banks can lend much more capital than they take in -- reserve requirements are currently around the 10% level -- one dollar in the banking system can create many more dollars through leveraged lending.
Following the banking crisis, the amount of lending has been anemic, as banks took on loan losses and needed to deleverage their balance sheets. This means that for every dollar that gets deposited in a bank, there has been no money multiplier effect. In fact, the money multiplier has been below one since the crisis, indicating an aversion to risk and lending in the banking system.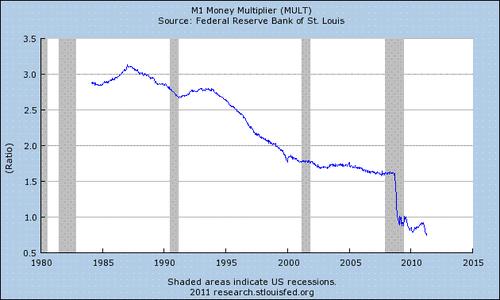 As you can see in the chart above, the money multiplier plunged during the financial crisis. What's more concerning is that it appears to be dropping even further, indicating deflationary forces are at work, despite monetary and fiscal stimulus by the US government.
A number below 1 is very bad. As you can see by looking at the chart, the money multiplier has been in decline for many years. In healthier times, such as the 1980s and the 1990s, the money multiplier was well above 1 -- and was once as high as 3!
This goes a long way toward explaining why traditional monetary and fiscal stimulus measures have been ineffective. If there is no multiplier effect and low monetary velocity, printing more money is of little use because the economy is not moving it. Any money pumped into the system is just sitting there. Without increased money velocity or a money multiplier, it's unlikely that the economy can accelerate.
This may be the reason why Federal Reserve Chairman Ben Bernanke is not as afraid of inflation and commodity price rises as his critics. He has said he believes that commodity inflation is "transitory," so he could be noticing that money velocity and the money multiplier are stubbornly low. As long as these numbers are low, the fed's stimulative monetary policies are not in danger of creating runaway inflation.
You might ask, "Why is money velocity so low?" There are some theories that make a lot of sense. I'll cover them later this week.