NEW YORK -- The Occupy Wall Street protests are growing bigger, louder, weirder, edgier... and sadder. In just the past seven days, the demonstrations have spread from New York to dozens of cities nationwide, large and small, on both coasts and in between.
The mood is shifting from love and peace to "Give me a piece of the American Dream" as the number of protesters grows and people jockey for attention with provocative signs, curious costumes, and puppets that tower ominously over the crowd. And yet an undercurrent of sincerity remains in the protesters -- the 63-year-old veteran who cannot find work, the everyday people who say "Our Economy Could Be More Fair," the children who say their parents cry too much because money is tight.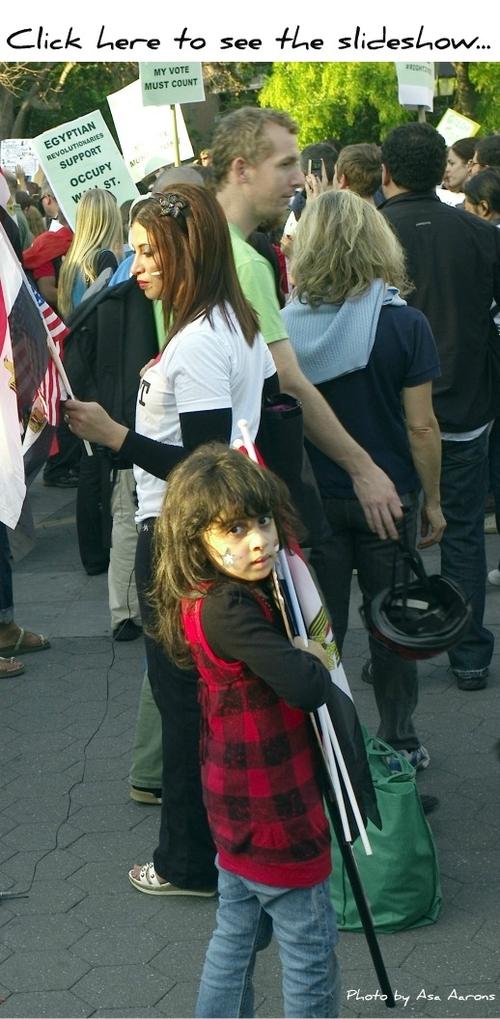 It's easy to dismiss the Occupy Wall Street protesters with any one of a number of pejoratives -- rabble-rousers, anarchists, socialists -- until you look a few of them in the eye. Of course, you have to weed out the extremists (the ones who gravitate to crowds to feed on insecurities or weaknesses), the pseudo-protesters (who attend just to be able to say they attended), the homeless people (who find the makeshift protest camps convenient places to sleep), the strange (people draped in flags or dressed as "Wizards of the 99%"), and the deranged (anyone with a sign smacking vaguely of cannibalism or showing severed heads).
But once you do that, you find something real -- and very compelling. Is this really our vision for America?
Fueled by support from organized labor, politically active clergy, publicity seekers, and a strangely diverse group of public figures, Occupy Wall Street, aka the little protest that could, is inciting debate and discussion about an economy gone wrong and the people struggling to survive it. In the past week:
Of course, neither Obama nor Fisher nor Neal nor Fink nor anyone else who has weighed in on the protests has taken the next step by offering any action.
In fact, the demonstrations are exacerbating political and class divisions between those who view the protests as anti-American and those who argue that nothing could be more American than exercising the rights to free speech and assembly. Not everyone thinks it's patriotic to protest. The Republican presidential candidate Herman Cain called the protesters "un-American."
As the protests gain steam -- and spread from the makeshift camp where the movement was born in lower Manhattan -- there are more questions than answers about the protests, the participants, and the objectives. A few things remain crystal clear. Growing numbers of Americans are frustrated and outraged, and they're no longer willing to settle for the status quo.
Even before multiple labor unions joined the protesters, and even before people like Al Sharpton (who was ordained as a minister when he was 10 years old) and the "activist and poet" Apollo Poetry seized the protest as the potential path to another 15 minutes of fame, protesters were angry.
In mid-September, a handful of loosely organized college students began camping in Zuccotti Park, a private plaza off Broadway in the shadows of the World Trade Center site. With their iPhones, iPads, and Macbook Pros, the original group looked more like a group of well-connected college students enjoying a post-graduation summer abroad.
But this ain't Paris, and even though many of the protesters are college students and recent graduates, they note that they have thousands of dollars in unpaid student loans. They aren't complaining about the fact that they have loans. They're complaining that they can't find any jobs to pay back those loans. Any kind of job, even working in fast food.
No one -- not even the protesters -- can explain with any clarity the underlying message of the protests. Yet the fuzzy, scattershot complaints against corporate greed, social inequality, climate change, unemployment, underemployment, unfair taxation, national debt, war, and a system gone wrong seem to resonate.
In the past four weeks, the protests have spread from New York to Chicago, Boston, Washington, Los Angeles, San Francisco, San Diego, Seattle, and Spokane, Wash. They've popped up in small cities, including Casper, Wyo. The faces of the protesters have become more diverse, making the movement look less like suburbia and more like America.
Benedict J. Fernandez, a photographer who chronicled the social unrest and protests of the 1960s, told IU that the demonstrations are still more social than political. "There is no comparison with the violent protests of the 60s, when people were literally fighting for their lives. This time, there's no draft. There is just depression and malaise."
If you attend one protest and talk with enough of the protesters, you'll start to understand what's motivating them. Contrary to what some politicians seem to think, Occupy Wall Street isn't hell bent on overthrowing capitalism. The focus is on a kinder, gentler capitalism, one more aligned with the vision of George Bailey than Henry F. Potter.
George Bailey wasn't a socialist. But he thought average people deserved a break, and he saw money as something more than a tool for domination and power. As he says to Potter about average people:
This rabble you're talking about... they do most of the working and paying and living and dying in this community. Well, is it too much to have them work and pay and live and die in a couple of decent rooms and a bath?
The protesters are saying much the same thing he said in 1946. Only now, the symbol of all that's wrong with the economy is no longer Potter. It's Wall Street -- the mythical center of the financial system.
But one thing is still the same. No one in Bedford Falls liked Potter, who ran a bank. You don't have to look far for a sign at Occupy Wall Street saying something negative about banks or bankers.
However, I have one suggestion for Occupy Wall Street: Keep the focus on your message, and lose the signs about eating bankers and/or the rich. Bankers may be unpopular, but people like cannibals even less.