NEW YORK CITY -- Finding talent can be just as hard as finding a job. As Derek Webster, founder and CEO of Manhattan-based LocalBonus explained, "It's easy to find someone. It's just hard to find someone good."
LocalBonus, a company that lets consumers earn rewards for supporting local businesses, is looking for sales representatives, Ruby on Rails developers, and mobile developers. It'll take interns, too. But because it's a four-month-old digital startup, it has relatively little name recognition. Most job seekers don't know it exists or understand what it does. But LocalBonus has big plans. It wants to grow, and it's not alone.
The economy may be on the verge of collapse, but the Manhattan tech startup scene is booming, and it seems all the young companies are looking for help.
Last week, 77 startups threw a party for jobseekers, complete with a networking lounge, music, snacks, and ping pong. There were a lot of sponsors, including some of the older companies in Silicon Alley, an area around Union Square in Manhattan with a concentration of Internet and new media companies: Shutterstock, ideeli, Buddy Media, Tekserve, and Parrut.
Tarek Pertew, co-founder of the Silicon Alley Talent Fair, said most of the participating companies have about 60 employees. But they want to grow, and need people with an entrepreneurial (and, yes, even quirky) attitude.
More than 700 jobseekers registered to attend, lining up outside more than hour before the doors opened. The hopefuls included Mark Novak, who isn't even finished with college and is already looking for a job, and Carmine Rublowsky, who has been looking for a job since graduating from college last May. He still hasn't found one and thought, perhaps, that startups might be more willing to give someone with more energy than experience a shot.
Like most of the job seekers Rublowsky clutched a folder full of resumés. But the companies were as eager as the candidates to please, stocking their booths with a variety of eye-catching objects. And after a quick walk around the event, the question of the day quickly became clear: What potential gimmick is most likely to get the attention of Web developers, software engineers, and people with Ruby on Rails development skills?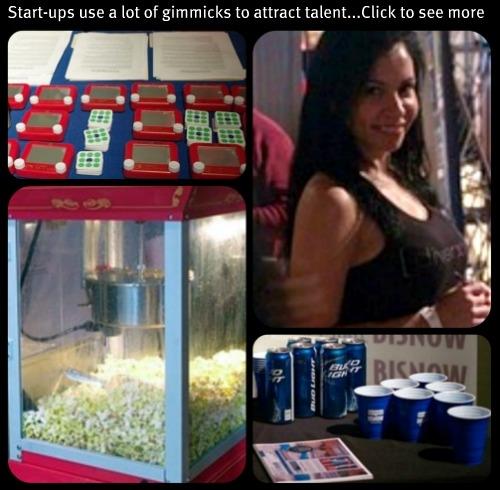 There were numerous enticements, making the job fair as much a carnival as a career event. Candy. Popcorn. Cupcakes. Trinkets. One company, Bisnow Media, offered beer -- 40 oz. cans, no less. Another, Diverxity, "a new kind of online adult community that brings together talent and producers of sexy and erotic materials with fans around the world," resorted to one of the most obvious attention getters: a generously endowed woman in stiletto heels.
Even with unemployment hovering around 9 percent, it's not easy to find the right people to hire, company reps explained. And startups have special challenges. To grow, they have to do a lot with a little, which means one person does the job of two or more. The right applicants need esoteric skill sets, can-do attitudes, and a commitment to work before 9 a.m. and after 5 p.m.
"We need someone with an engineering degree who also knows a lot about fine art -- museum art -- It's a rare bird, but that's what we are looking for here," explained Daniel Doubrovkine of Art.sy. The site promotes itself as "a new way to discover art you'll love, featuring work from leading galleries, museums, and private collections around the world."
Not all the positions are that specific. But almost all of the companies are determined to find employees with something they variously described as passion or enthusiasm -- in short, people with that intangible drive to succeed.
It isn't easy finding them, high unemployment or not, complained John Roberts, co-founder of Comixology, "the quintessential site for comic book enthusiasts."
Engineers are insufferable, he explained. "They don't want to work full-time because they can make more working freelance or on a contract basis. They want to work from home, not from the office. They only want to work on 'really cool' projects, not the basic everyday stuff," he said. "And even though we have a lot of cool projects, we have a lot of basic everyday stuff, too."
But experts say digital momentum is growing in NYC. And while that's good for the economy and good, in general, for the companies, it'll give technically savvy developers, engineers, and managers even more reasons to act like divas. p>