Everyone is looking for a bargain in New York, including the 480,000 students of the City University of New York. So when the CUNY trustees announced plans to raise tuition, it didn't go over very well, even though tuition at the 24 colleges and institutions that collectively comprise CUNY is low by higher education standards.
New York residents can attend four-year CUNY colleges full-time for around $5,430 a year in tuition and fees. Out-of-state students pay around $14,100.
Those figures are significant chunks of change, but they're still well below national averages. According to data from the College Board, public four-year colleges charge, on average, $8,244 in tuition and fees for full-time in-state students and $20,770 for out-of-state students. Private nonprofit four-year colleges charge about $28,500 per year in tuition and fees, the College Board says.
But don't try to reason with CUNY students by suggesting they would pay more to attend school somewhere else. They're angry -- and they haven't been shy about expressing it.
Last summer, legislators in Albany caved to pressure from administrators at both the CUNY schools and the State University of New York -- which operates 64 colleges, universities, and community colleges statewide -- by authorizing annual tuition increases of $300 for the next five years.
On Monday, after several weeks of sometime violent protests, the CUNY trustees, who already hiked tuition $300 this year, voted 15-1 in favor of continuing the annual increases. The hikes will boost the cost of attendance about 31% by 2015-16, when in-state students will pay about $6,800 in tuition and fees.
Hundreds of students at Baruch College in Manhattan protested outside the building where the board met, banging drums and waving signs arguing that "CUNY must be free," and that the board of trustees should be abolished.
The argument that CUNY should offer free tuition (as it did until the 1970s) is unrealistic at best. No one has a constitutional right to higher education, and neither local nor state nor federal coffers have a surplus of cash these days to finance tuition-free colleges.
College has always been viewed as an investment -- in yourself and your future. And even though it still is, the value of that investment seems to be more akin to Groupon than Google. With unemployment among young adults at historic highs -- and many recent grads struggling under the weight of student loans -- college degrees are no longer guarantees of brighter tomorrows.
The question isn't whether it's fair for CUNY or any other college to hike tuition. The question is whether a college degree is worth what it costs to attain.
Only 52% of men and 58% of women think college prepared them for a job or career, according to a study released in August by the Pew Research Center. Most former students agreed that college helped them mature and grow intellectually. But how much would they have grown and developed if they had entered the workforce instead? Did college help them mature, or did they just rack up a few years of chronological age?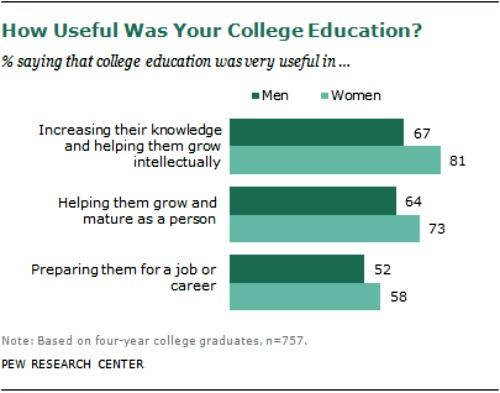 In another report released this year, Pew researchers asked Americans, "Is college worth it?" And the majority said no -- 57% of respondents said higher education in the United States fails to provide students good value for the money. An even larger majority -- 75% -- describe college as too expensive for most Americans to afford.
Adults who graduated from a four-year college believe that, on average, they are earning $20,000 more a year as a result of having gotten that degree. A more detailed Pew Research Center analysis shows that this gap varies by type of degree and field of study.
The average college grads will have a net gain of $550,000 over their lifetime (even factoring in the cost of college attendance) compared to those with a high school diploma, but it's not a guarantee. Work-life earnings tend to be much higher for undergraduate majors requiring numerical competencies (computers and engineering) than other fields of study (education and liberal arts), the study found.
So is college worth it? Of course it is -- for some students. But what you gain from higher education clearly depends on what you put into it. It can pay off for students who have a focused career objective, as well as the maturity to maximize the benefits of education.
But with tuition climbing, whether it's an increase of $300 or $3,000 a year, maybe it's time to rethink the notion that every student should go to college right after graduating from high school.
Maybe some students would be better off maturing first, finding a passion, and going to college a few years later.
And maybe other students should just capitalize on their love for art or interest in trades -- and not go to college at all.