The best thing about 2012 might be that it gets us slightly closer to 2013. Economists seem to think that it will take at least a year -- or even longer -- before things get back to that comfortable state we used to call "normal."
December is typically when economists dust off their crystal balls or take out their dartboards to come up with predictions for the year ahead. Yesterday, two economists from IHS Global Insight took the virtual stage to reveal their Top 10 Economic Predictions for the year ahead.
During an hour-long Webinar, chief economist Nariman Behravesh and chief US economist Nigel Gault painted a gloomy picture of a world teetering between minimal growth and a repeat recession.
They warned that a "problematic combination of private-sector de-leveraging, public sector austerity, and lack of confidence in politicians" is plaguing the US and Europe. And while the US economy just might muddle through, thanks to what Behravesh called a "pleasant little bounceback," neither Europe nor China will likely be as lucky.
The eurozone is on the verge of a meltdown, and now there's growing anxiety that the slowdown in China will end in a hard landing, he explained. If either event materializes, it will mean "weaker global growth and possibly another world recession."
The best scenario: World growth will slow from 3% this year to 2.7% in 2012...or even as low as 2.5%.
As Behravesh explained, we remain stuck in a sluggish period of modest growth -- and it doesn't seem likely change will come "for a number of more quarters" or at least until the second quarter of 2013.
Click on the image below to view some slides from their presentation: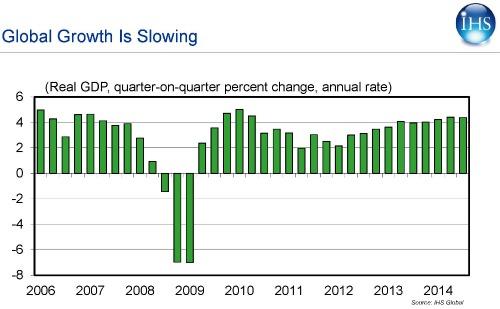 In the US, growth is likely to come in between 1.5% and 2%. Europe is struggling: The UK might squeak out 0.3% growth, but that's both optimistic and better than the outlook for the eurozone, which is facing a retraction. But the outlook is better in Asia, which could grow 5.5% next year, as long as the bottom stays intact in China.
What else can we expect?
The United States will probably avoid a recession
: Consumers seem willing to spend, and more businesses seem likely to hire, but "fiscal tightening continues, household de-leveraging continues, housing is still in excess supply, and export prospects have dimmed."
Europe is heading for a second dip:
In fact, it may already be in one. The only question is how severe it will be. Expect a mild downturn if the region's sovereign debt problems are resolved or a deep one if they are not.
Asia will continue to outpace the rest of the world:
Chalk it up to Japan's post-earthquake rebound and strong growth in China. But all bets are off if the country's housing downturn devolves into something worse.
Growth in other emerging markets will (mostly) hold up:
The eurozone crisis will have the greatest impact on emerging Europe, since Western Europe is its most important export destination and because the region is dominated by subsidiaries of Western European banks that are tightening credit.
Commodity prices will (mostly) move sideways:
Commodity prices will be pulled down by weaker growth in the developed world and "pushed up by limited spare capacity and continued robust growth in key emerging economies, such as India and China." But that's really just a guess because the trend is unclear, IHS concedes.
Inflation shouldn't be a problem:
Prices will soften almost everywhere, especially in developed countries "because of vast amounts of excess capacity in both labor and product markets."
Central banks will keep rates low:
There could even be more quantitative easing.
Expect tighter fiscal policies:
In the US and abroad, governments are facing up to their debt problems. Severely indebted nations like Greece, Ireland, and Portugal are in the midst of austerity programs, and France, Italy, and Spain are being pressured to cut spending and reduce debt.
The US dollar will continue to slide against most currencies:
But the euro is an exception -- as long as the eurozone crisis continues, the euro is likely to depreciate against the dollar.
The global economy faces two significant risks in 2012:
The biggest is in the Europe, where large countries are at risk of default and smaller ones are threatening to exit the eurozone. The second is a possible sharp slowdown in China, triggered by the bursting of its real estate bubble.
Overall, it's hard to characterize the IHS forecast as the worst we've seen in the past few years. It's not the best either. It's just fair, with nothing all that positive on the horizon. But when it comes to the economy, it seems that's what most of us have come to expect.