NEW YORK CITY -- Toys are more than child's play. US retail sales of toys generated $21.18 billion in 2011, according to the latest research from the NPD Group. But that's down 2% from 2010, presumably because of the soft economy.
At the 109th American International Toy Fair here this week, more than 1,000 toy makers and distributors from across the globe are putting their best products on display in the hope of reversing those sagging sales. The exhibits include action figures and dolls; games and puzzles; arts and creative activities; bikes, trikes, and ride-ons; remote controlled vehicles; infant and preschool toys; cars, trucks, and trains; and puppets and plush.
There is stuff to build, hold, ride, hear, taste, and snuggle... 100,000 toys, games, and youth entertainment products for everyone from infants to adults. Want to see some of them? Click the image below for a slideshow of products from the Toy Fair.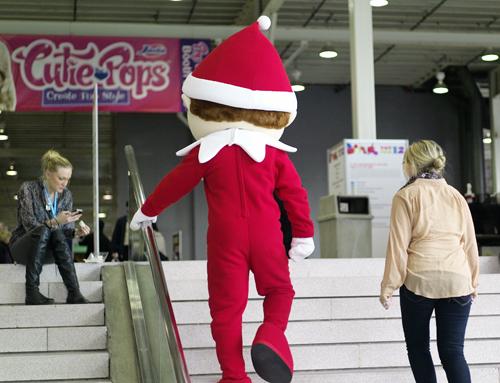 The challenge for the exhibitors is catching the attention of at least some of the 16,000 buyers expected to attend the four-day tradeshow.
If they're really lucky, they'll catch the eye of a buyer from one of the nation's Top 25 Toy Sellers -- including Target (NYSE: TGT), Wal-Mart Stores (NYSE: WMT), Toys"R"Us, Costco (Nasdaq: COST), CVS (NYSE: CVS), and Amazon.com Inc. (Nasdaq: AMZN). Buyers from all 25 of those retailers are roaming the aisles in search of what could be the next big thing.
There are a lot of aisles. The Toy Fair, owned and operated by the Toy Industry Association, stretches across some 366,339 square feet of exhibit space on three floors at the Jacob K. Javits Convention Center. And in this sprawling kaleidoscope of color and sound, where every display tries to evoke an ooh or an aah, it just isn't easy for a product to stand out.
As hopeful entrepreneurs vie with well known manufacturers, pitting new-to-the-market concepts against the tried-and-true, the message becomes clear: It takes work to play.
Elinor Pine of BubbleThing dips and blows "the world's biggest bubble," then dips and blows again. Ernest Autumn Van Den Heuvel, CEO of HandTruxToys and a former heavy equipment operator who has run bulldozers, loaders, and back hoes for 34 years, proudly parades around his booth to profess his love of playing in dirt. Then he demonstrates how kids can use the hand shovel he designed to dig everything from sand to snow.
Adam Arber tries to persuade buyers that his "gruesome but cute" RoadKill toys will be as popular in the US as they are in the UK, while David Ehrlich of WebbCandy suggests edible candles can make birthdays even sweeter.
For many of the exhibitors, Toy Fair is the realization of a dream. Take Patricia Martin, president of lapiluv, who invented a "wearable activity center" -- an apron with media pockets and attachable toys. Looking as if she wandered off the set of the old Teletubbies children's TV show, Martin touches the iPad on her stomach. "This lets parents use technology to interact with their children," she said.
Tom Giedgowd, president of TeeGee, relies on technology, too. Last year, he and a group of graduate computer science and engineering students at the University of Virginia developed a plush toy that interacts with iPhone apps. Parents can download something as simple as songs for a baby or stories for a preschooler.
"When my son was born two years ago, I realized we were spending a lot of money on toys we didn't play with very much. So we came up with something that can grow with your child," he explained. "It creates value for parents."
The lines between toys and technology seem to be growing increasingly blurry. Insiders call them "AppCessories," playthings that come to life when hooked up to an iPad, iPhone, and iPod.
But the Toy Fair is still full of the traditional, too. There are dolls and trucks, kites, cards, and board games. If you look hard enough, you may even see a book!
And maybe -- if you look past the competition for attention, the investments of time and money, and the fragile dreams of commercial success -- you'll see something else, too. Some of the exhibitors actually seem to be having fun.