If making money in the stock market is as easy as investing in what you know, as some investment gurus suggest, then it should be simple to come up with a list of potentially profitable companies. But is it? Let's find out.
I'm curious whether a working parent can profit from the tasks she complains about doing every Saturday and Sunday. You know what I'm talking about: all those routine errands from filling up the gas tank in the car to finding new jeans for one of the kids.
So based on that premise, I've come up with a list of six companies for a mock Weekend Investment Portfolio. The list includes four retailers, Costco (Nasdaq: COST), Kohl's (NYSE: KSS), Chico's FAS Inc. (NYSE: CHI), and PetSmart (Nasdaq: PETM); an oil company, Hess (NYSE: HES); and a beverage company, Molson Coors Brewing (NYSE: TAP).
All of them were selected on the basis of two things -- familiarity and basic research. While I didn't run any complicated analysis on the companies, I did check to make sure they were fairly valued and had reasonable profit projections. And then I relied on intuition: Maybe you don't have to be Peter Lynch or Warren Buffett to have some sense of which companies have upside potential.
Let me repeat: This is a test... only a test... I don't really own any of these stocks. But I'd like to find out whether I should. And let me add one more thing. If it looks as if I should, I'd do deeper analysis before actually investing any money.
For now, let's just have a little fun, and see how the mock portfolio performs over the coming weeks. Based on year-to-date returns, it's not doing too badly. The six companies are collectively up 8.28% through close this past Friday, slightly better than the Dow, which was up 6.44% YTD through Friday.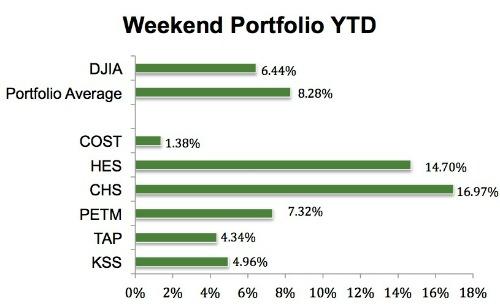 So why these six companies? Here are my thoughts.
Chico's is a women's specialty retailer that sells private branded apparel including Chico's, White House | Black Market, Soma Intimates, and Boston Proper. The stock is up nearly 17% YTD, with a forward P/E ratio of 14 and a PEG around 1. Chico's will reveal its latest earnings today. Analysts expect net income to decline 8.3% and profit to rise by 23.1%. It currently pays a 1.65% dividend.
Personal insight: Men, feel free to skip this. But if you want to understand this stock choice, read on. Victoria's Secret (NYSE: LTD) sells bras for woman who want to look buxom. Soma Intimates sells bras for woman who actually have breasts. You can find intimate apparel here in a much better range of sizes, and, better yet, find styles that actually do what bras are intended to do. In addition, White House | Black Market has a limited but nicely designed collection of both career and dress clothes.
Kohl's operates 1,089 department stores in 49 states. In addition, the company offers online shopping on its Website at Kohls.com. Kohl's has some very attractive financials. Its sales have increased 7% in the last 12 months, and earnings are up 15%. The stock is up about 5% YTD and has a forward P/E ratio of 10, giving it a PEG below 1 (its earnings growth rate has been higher than its P/E). It currently pays a 1% dividend.
Personal insight: Kohl's is the mid-price department store that JCPenney (NYSE: JCP) and Sears (Nasdaq: SHLD) long to be. It's got a good selection of private label as well as national branded apparel, footwear, and accessories. It just introduced Rock & Republic, a fashion brand known for its pricey designer denim and other apparel. VF Corp. (NYSE: VFC), which acquired Rock & Republic last March after the company filed for bankruptcy in 2010, is selling the brand exclusively at Kohl's now. Teens and young women will like that.
Costco operates 592 no-frills, membership warehouse stores worldwide including 429 US locations in 40 states and Puerto Rico, 82 Canadian locations in nine provinces, 32 Mexico locations, 22 United Kingdom locations, 9 Japan locations, 8 Taiwan locations, 7 Korea locations, and 3 Australia locations. In its January sales release, Costco announced that its sales had increased by 11% and revenues at stores of more than one-year existence had increased by 8%. The stock is up 12.96% in the past year, though only 1.38% YTD. Costco has a forward P/E ratio of 19 and a PEG of 1.59. It currently pays a 1% dividend.
Personal Insight: When I'm depressed, I head to Costco. It does what Target (NYSE: TGT) used to do: make me smile. It can be uncomfortably crowded, often cold, and, sometimes, you'll even see birds flying around in the warehouse. But it's still a fun destination for dedicated shoppers. There's always something interesting to uncover, from electronics to apparel. Yesterday I stumbled on Swedish inspired Hanna Andersson children's clothing. And it always has Fifth and Pacific Companies (NYSE:FNP) -- formerly Liz Claiborne -- subsidiary Lucky Brand jeans.
PetSmart, the largest specialty retailer of pet food, supplies, and services, sells everything from animals to consumables, including therapeutic dog and cat foods that are not available in grocery stores, warehouse clubs, or other mass and general retail merchandisers, as well as its private label foods. Although PetSmart is facing new competition from Amazon's Wag.com, it has a solid financial history, and the stock is up 7.32% YTD. The company has increased same-store sales for 16 consecutive years and increased revenue every year for 10 consecutive years. Sales were up 7.9% in the past quarter year-over-year, and income was up 23%. PetSmart has a forward P/E ratio of 20 and a PEG of 1.34, and it pays a 1% dividend. The company will announce fourth-quarter results next Wednesday.
Personal insight: People love their pets -- as much as, or more than, their children, it seems. According to the American Pet Products Manufacturers Association, an estimated 63% of US households own a pet, and they collectively spend $40 billion a year on their pets' care, even when they cut back on many other discretionary items. PetSmart has a broader and higher-end merchandise selection than its competitors, and the stores also generally seem better managed.
Hess engages in the exploration, development, production, purchase, transportation, and sale of crude oil and natural gas worldwide. If you live on the US East Coast, you may be familiar with its Hess Express retail locations. Otherwise, you're more likely to associate it with exploration and production, including its major presence in North Dakota's Bakken play. Hess swung to a loss ($131 million) in the fourth quarter, missing analysts' forecast. But revenue rose 8.1%. The stock is up almost 15% YTD. Hess has a forward P/E ratio of 10 and a PEG of 1.73. It pays a dividend of 0.6%.
Personal insight: For the sake of full disclosure, let me mention that I have done some contract work for Hess in the past. Typically, the more you learn about a company, the more you see its warts and flaws. As a seasoned skeptic, that's what I expected to find here, too. But I didn't. Hess is impressive. It has a good record for safety, concern for the environment, and social responsibility. Its retail pricing strategy is to sell gas slightly cheaper than its major competitors. When I fill up, I look for a Hess station.
Molson Coors Brewing -- surprise! -- brews, markets, sells, and distributes beer brands. In the US alone, it sells Coors, Miller, Keystone, Icehouse, Mickey's, Milwaukee's Best, and Old English 800. It also has a big range of craft and import brands, marketed and sold through the newly created Tenth and Blake Beer Company, including Blue Moon brands, Henry Weinhard's, George Killian's Irish Red, the Leinenkugel's brands, Peroni Nastro Azzurro, Pilsner Urquell, and Grolsch. In the past year, sales climbed 8% and income climbed 0.9%. The stock, up 4.34% YTD, has a forward P/E ratio of 13 and a PEG of 1.39. The stock pays a dividend of 1.28%.
Personal insight: "Everyone likes Blue Moon." That's what someone who orders beer for a weekly event at an office of five-dozen people declared to me recently. Most of those Blue Moon drinkers are unaware the trendy craft beer falls under the Molson Coors label. Last week, the company announced fourth-quarter sales jumped 12.2%, spurred by higher pricing, overhead cost reductions, and one extra shopping week during the holidays. Beer, like chocolate, remains a modest pleasure for even the cash-strapped consumer. I can't see them cutting back, and Molson Coors controls several of the consumer favorite brands.
So there you have them. My intuitive sixpack. I'll check back periodically to tell you how they're doing -- and then we can decide how profitable it is to buy what you know.