Maybe all this talk about Greek debt is whetting the appetites of credit-starved American consumers, like people on diets who forget about calories when they hear a lot of buzz about a new chocolate shop. Or maybe too many people think they've just been living too lean for too long.
Whatever the reason, demand for consumer credit jumped 6% in the fourth quarter of 2011 from the same period a year earlier. At the same time, there was a "notable increase" in the percentage of non-prime consumers with an active bankcard, driving up credit risk among US consumers.
Those are some of the findings released yesterday by privately held TransUnion, one of the Big Three nationwide credit-reporting agencies.
TransUnion noted that the 6% increase in its Total Inquiry Index is the largest since the second quarter of 2007. And while consumer demand for credit is still below pre-recession levels, TransUnion stated in a press release that the increase may "signal that consumers are beginning to increase spending on discretionary items and may reflect stronger consumer sentiment and confidence toward the US economy."
TransUnion's Credit Risk Index, a measure of the risk inherent in the US credit-using population, increased for the first time since the end of 2009. The CRI increased 2.3% in the fourth quarter from previous three months, although it is still down 1.7% year-over-year.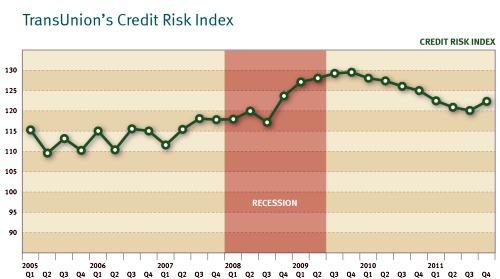 Charlie Wise, director of research and consulting at TransUnion, attributes the higher risk forecast to increases in delinquencies on both credit cards and mortgages. But he also noted that lenders, once again, have been making more credit available to borrowers at the low end of the credit spectrum.
So more credit to less qualified borrowers. Is it time to say, "Here we go again"? Or will making it easier to spend be a good thing for the sluggish economy?