Investors know what they want. And generally speaking, it's pretty straightforward. They want their portfolios to outperform in bull markets, and hold steady, decline only slightly, or even increase in value when markets turn bearish.
The objectives are easy to explain. But achieving them... well, that's the hard part. And like the Quest for the Grail -- arguably the most elusive object known to man -- so it is with stock returns. Even the most skilled investors concede it's hard to find what they desire: consistent ways to outsmart the market.
But now, researchers at the nonprofit American Institute for Economic Research (AIER) in Great Barrington, Mass., think they may have cracked the code. They call their result The Perfect Portfolio, and they credit its success to a mathematical model that shows that stocks fare well in good times and fall modestly when markets change.
AIER, which has been conducting independent, scientific economic research since 1933, created a model stock portfolio that the organization boasts has beat the market in 10 of the past 11 years. Officially known as the AIER-Beta Portfolio, "The total return of the model portfolio was higher than the market's total return" in every year from 2000 through 2012, with the exception of 2009. (Hey, no one bats 1.000!)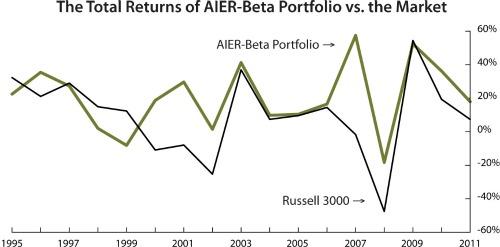 AIER's Steven Cunningham, director of research and education, and Julie Ni Zhu, a research analyst, said the AIER-Beta Portfolio had an average returnT 17.9 points higher than the market total return. "For more than 100 years, a stock trader's maxim has been 'don't fight the market.' In bull markets most stocks rise, and in bear markets they fall. That's mostly true -- but not all the time," Cunningham told me in an interview.
Cunningham attributes the success of the portfolio to the fact that "markets are not always efficient: Investors can sometimes bear less risk and still receive higher returns." He said the AIER-Beta Portfolio "identifies and exploits the rolling, cyclical inefficiencies in the market."
What's the secret? Cunningham said the key to creating the Perfect Portfolio is beta, a statistical measure of how much a stock rises or falls along with the market. Beta, for the record, is a measure of the volatility of a security or a portfolio as compared to the overall market -- its sensitivity, if you will, to inevitable ups and downs.
As Investopedia explains:
...think of beta as the tendency of a security's returns to respond to swings in the market.A beta of 1 indicates that the security's price will move with the market. A beta of less than 1 means that the security will be less volatile than the market. A beta of greater than 1 indicates that the security's price will be more volatile than the market.
So here is what the AIER team did. It created the portfolio by computing betas for all stocks for the years 1995 through 2011 in the broad-based Russell 3000 stock market index. In addition, they separately computed betas in rising and falling markets. That, Cunningham said, was the hard part. "It was a huge task."
The team analyzed stocks from every sector of the market, as well as companies of all sizes. About one-third of the stocks were small caps, followed by smaller portions of mid cap, large cap, and micro cap companies. About 5 percent of the stocks were nano cap -- small public companies with a market capitalization below $50 million.
Here's what it found. The movement in most stocks is fairly symmetric, rising when the market goes up, falling when the market goes down. But a small percentage of stocks react to the market asymmetrically. Some may fall more when markets decline than they rise when markets recover. But some do just the opposite. They fall less when markets decline and rise more than average during bull markets, making them especially appealing, especially for risk-averse investors.
As Emily J. Huang, a lecturer of finance at Wayne State University in Detroit, explained in a 2010 research report:
A security whose returns are less sensitive to downward market movements and more sensitive to upward market movements exposes its shareholders to less downside risk and provides the shareholders more upside potential.
The AIER Portfolio was constructed and reconstructed annually with 20 stocks with asymmetrical betas, Cunningham said. The selected stocks cover all 10 industry sectors, but no more than a quarter of the stocks were from the financial sector. Consumer-discretionary and healthcare sectors were both represented by more than 10 percent of the portfolio, but the energy and utility sectors each accounted for only about 1 percent of the portfolio.
The team included a mix of small caps, followed by smaller portions of mid cap, large cap, and micro cap companies. It did not include any nano caps because of the higher risk and lower liquidity.
"We selected stocks with low downside betas, to minimize losses during down markets, and high upside betas, to maximize returns in up markets," Cunningham told me. The full methodology is explained in much greater detail here.
While that strategy makes sense on the surface, it basically challenges long-standing wisdom about stock investments. Most investors gravitate toward stocks with their higher levels of volatility because it's generally accepted that stocks with higher betas have the potential to earn higher returns. "There's nothing wrong with that," Cunningham said. "But we realized there is a small percentage of stocks that react differently, and bias your portfolio to upward returns."
Before you get too excited, understand this: AIER is a nonprofit research organization, not a source of investment advice. It will not release the specific stocks in its portfolio. So you can't easily duplicate its success by purchasing the same equities.
In addition, Cunningham said, there are some things to consider with this strategy. For one thing, expect a lot of turnover with your stocks. Many of the companies the AIER team selected were later acquired, merged, or taken private. They're hot stocks, he explained, and investors should consider all of their potential transaction costs.
Cunningham said AIER is doing further research to see if it can hone in on the qualities that give a stock the desired asymmetrical beta. That would be useful advice for individual investors.
For now, the best thing investors can do is realize that stocks do not always perform predictably to rising and falling markets. And it may be useful to compute the betas of a potential investment in rising and falling markets. It's not a task for the math-impaired. But if you're statistically inclined, you can find step-by-step directions here.