Jobs are getting slightly easier to find. At least that's what consumers reported this month when they were asked in the survey of consumer confidence compiled by the Conference Board. The percentage of respondents included in the "jobs hard to get" series fell to 37.5% this month from 40.7% during March, significantly lower than a recent peak of 49.4% last September and the lowest since November 2008.
But don't get too excited, because the number of people who reported jobs were "plentiful" fell from 9% to 8.4%, and the unemployment rate is still hovering around 8.2%. What's more, today's release of initial jobless claims came in higher than expected for the fifth straight week. A total of 388,000 Americans filed applications for unemployment benefits last week, higher than the 375,000 most economists were predicting.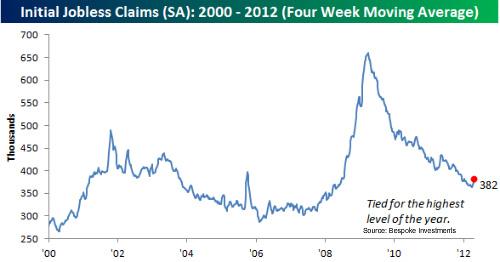 Statistics aside, the reality is that the recession has created new paradigms about work and reshaped some of the old ones. To get ahead in today's economy, you have to understand a number of simple truths, including these five:
All jobs are temporary. So try to have more than one source of income. It's the equivalent of diversifying your investments. Capitalize on a hobby, do a little consulting, prepare for a potential second (or third) career. Granted, you may not make enough from your weekend endeavors to quit your day job. But you'll build a safety net -- one that will give you a potentially larger cushion than a weekly unemployment check if you lose your primary job.
You can't stay young, but you can stay current. That means constantly updating everything, from your knowledge and skills to your hair and clothing. And don't forget to evaluate your attitude. Employers value a "can do" attitude from applicants more than specialist skills, according to one recent survey in the United Kingdom. Experience is nice, but enthusiasm makes it even better.
Relationships really do matter. Remember the first time someone told you it wasn't what you know but who you know? They were right. So use LinkedIn to build your professional network online. And while you're at it, start tweeting, update your timeline on Facebook, pin on Pinterest, check in on Foursquare, and upload images on Instagram. Then do something really radical. Throw a party to meet your neighbors or join a volunteer organization. Talk to someone on the bus or commuter train. Social media is one part of the networking equation. Being social is the second.
It's OK to reinvent yourself. You don't have to keep doing the same job you've always been doing, especially if it no longer satisfies you. And you shouldn't keep doing it if you feel it is a dead-end position or part of a dead or dying industry. It's OK to change jobs. A 2010 Bureau of Labor Statistics report, for instance, found Americans born between 1957 and 1964 held 11 jobs between the ages of 18 and 44. So if you change jobs, you won't be alone. Not sure what you want to do? Spend a little time on My Next Move, created for the US Department of Labor, Employment & Training Administration, by the National Center for O*NET Development.
Hope for the best, prepare for the worst. Spend less than you earn. (What if you make even less next month? What if gas prices climb even higher? What if anything?) Reduce your debt. (One strategy is to pay as much as possible on your highest rate credit card and make only the minimum payments on all the rest. When that card is paid off, cut the card in half -- literally -- and start paying down the next highest rate card.) Build your investment portfolio. (Our recommendation: Focus on fundamentals, value, and long-term investing.)