Perhaps it's because I still need high-tech scuba gear to discover the value of my underwater home. The recent upbeat data regarding home sales, though encouraging, is not a strong enough indicator that the struggling residential sales market is on a recovery path.
In talking with some real estate professionals in the northern suburbs of New York, I get a tangible sense that market conditions are beginning to improve. There is some slight optimism, even after recently released first-quarter figures showed that sales were still slow, and home values were still falling.
Real estate agents suggest that there are more potential buyers out in the market now, and that they appear ready to pull the trigger on purchases. For far too long in this five-year downturn, many of these people have been "tire kickers" or, perhaps more appropriately, "open house groupies" who spend their weekends shopping without ever bringing out their checkbooks.
But I can't say with certainty that a recovery is in progress. After looking at the latest numbers from the National Association of Realtors and the National Association of Home Builders, let me offer a word of caution. The latest figures are modestly encouraging, but they correlate with activity that began months earlier. We will probably have to wait till June or July numbers are released to determine whether a solid home sales recovery is in place.
Even so, the real estate industry remains upbeat. Yesterday, the National Association of Realtors reported that, despite a 2.6% drop in March single-family, townhome, condominium, and co-op sales nationwide from February, a recovery is beginning to emerge. NAR officials said that March sales rose 5.2% from a year earlier.
Click the image below for a slideshow of housing data.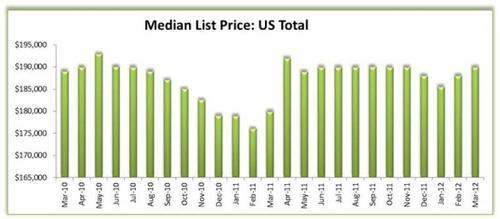 "The recovery is happening, though not at a breakout pace, but we have seen nine consecutive months of year-over-year sales increases," NAR chief economist Lawrence Yun said in a press release announcing the latest results. "Existing-home sales are moving up and down in a fairly narrow range that is well above the level of activity during the first half of last year." Interest rates, job growth, "bargain" prices, and an improving economy should translate to a "notably better" housing market this year.
The NAR cited what it called two other signs: The number of homes listed for sale declined 1.3% in March from the previous month, and inventories are nearly 22% below the levels a year earlier. The latest inventory numbers defy the NARís earlier prediction of a seasonal increase in home listings. The trade group said it already sees a lack of inventory putting downward pressure on home sales in the West and in South Florida.
NAR President Moe Veissi, broker-owner of Veissi & Associates Inc. in Miami, confirms something real estate agents in the New York metropolitan region are saying: Foot traffic at homes for sale has increased, and shoppers seem more serious about finding the right property and making offers. His words are encouraging, but I'm reserving judgment. The next few months will determine whether his observations were right on or off the mark.
One thing that does look good for the industry is that there appears to be some price stabilization. The national March median existing-home price for all housing types rose 2.5% from a year earlier to $163,800, the NAR reported. This in stark contrast to recent home prices in places like suburban New York.
Table 1: Median List Prices March 2012 vs March 2011

| | |
| --- | --- |
| Greatest Year-over-Year List Price Increases | |
| | |
| Phoenix-Mesa, AZ | 23.45% |
| Miami, FL | 22.27% |
| Boise City, ID | 19.73% |
| Punta Gorda, FL | 17.50% |
| Washington, DC-MD-VA-WV(MD) | 17.44% |
| Washington, DC-MD-VA-WV(DC) | 17.35% |
| Santa Barbara-Santa Maria-Lompoc, CA | 15.95% |
| Daytona Beach, FL | 15.47% |
| West Palm Beach-Boca Raton, FL | 15.38% |
| Naples, FL | 15.38% |
| | |
| Greatest Year-over-Year List Price Declines | |
| | |
| Chicago, IL | -9.48% |
| Knoxville, TN | -5.41% |
| Orange County, CA | -4.42% |
| Sacramento, CA | -4.35% |
| Philadelphia, PA-NJ(PA) | -3.77% |
| Jersey City, NJ | -3.26% |
| Los Angeles-Long Beach, CA | -2.95% |
| York, PA | -2.88% |
| Wilmington-Newark, DE-MD(DE) | -2.88% |
| Reading, PA | -2.78% |
Statistics the Commerce Department released Tuesday on home construction were also mixed. Though single-family home construction remained relatively flat in March, overall housing starts fell 5.8%, fueled in large part by a decline of nearly 17% in multifamily starts. Barry Rutenberg, chairman of the National Association of Home Builders, said builders are seeking increased traffic this spring at their model homes, but tight lending requirements and appraisal problems are significant obstacles for buyers.
First-quarter housing permits in both the single-family and multifamily sectors climbed from the fourth quarter of 2011. Rutenberg said that trend points to a market that "continues to slowly strengthen, albeit in fits and starts."
The last piece of good news this week for residential housing is that the Federal Housing Finance Agency directed both Fannie Mae and Freddie Mac to develop enhanced and aligned strategies for facilitating short sales, deeds-in-lieu, and deeds-for-lease to help more homeowners avoid foreclosure. Officials said the reform will come in stages starting in June.
The guidelines will require servicers to acknowledge receipt of short sale purchase offers within three business days, respond to short sale requests within 30 days (with a possible 30-day extension), and make a final decision within 60 days of receiving purchase offers.
Ever since short sales became a growing segment of the sales market during this prolonged downturn, real estate agents have complained of significant closing delays caused by lenders or servicers of these troubled loans. In March, foreclosures and short sales accounted for 29% of sales (18% were foreclosures and 11% were short sales), compared with 34% in February and 40% in March 2011.
By the end of 2012, Fannie Mae and Freddie Mac will announce additional enhancements addressing borrower eligibility and evaluation, documentation simplification, property valuation, fraud mitigation, payments to subordinate lien holders, and mortgage insurance.
NAR officials praised the new decision timelines on short sales but said federal legislation is needed to impose mandatory deadlines on all loan servicers.
Hopefully, a recovery is beginning to take hold. However, it is my opinion that this turnaround is fragile and could be reversed simply by rising gas prices and international events that rattle Wall Street. Simply put, the consumer is wary, and any negative event could change a seemingly willing buyer into that far too familiar "open house groupie."