With so many people out of work, it's understandable that consumer spending is weak. But consumer spending is a lot better now than it was just after the financial crisis in 2008. The first chart shows a steady increase in consumer debt between 1967 and its peak in December 2008.
There was a drop of 2.7% in the 17 months of the 1991 recession, but spending quickly resumed its steady climb once the downturn ended. Between Christmas 2008 and July 2010, consumer debt fell 8%. Credit card debt fell a huge 17.5%, while the much larger segment of nonrevolving debt decreased by 2.1%. Nonrevolving debt, involving mostly cars and houses, represents around two thirds of consumer indebtedness.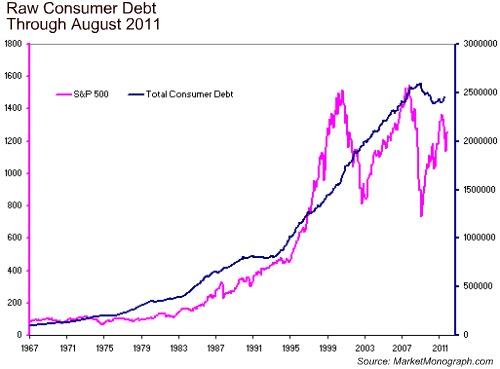 There has been some recovery in the past 16 months. Consumer debt grew 2.8% in the 13 months ending in August, according to the Federal Reserve. This is good news for the economy, since it suggests that Americans have started to buy again. However, the improvement was due to a 5.8% increase in nonrevolving debt, while credit card debt continued to shrink by 2.8%.
The reason it is important for investors to keep track of consumer spending is because consumer cyclical stocks often provide an early warning of the end of a market recovery. These stocks include industries such as automotive, housing, entertainment, and retail and represent goods and services that are not considered necessities.
The sector is doing relatively well, but I'm certain that's in part because other sectors are doing so poorly. For example, financial stocks make up 13% of the S&P 500 and are down 10.5% this year. In contrast, consumer stocks represent 9.4% of the index and are down just 2.2%. It is clear that these stocks recover long before other sectors. They may continue to prosper until the very end of the bull market, but other sectors exceed their performance as the cycle matures.
The SPDR Select Sector Consumer Discretionary ETF (XLY) tracks these stocks. The next chart shows how they are doing relative to the S&P 500 as a whole. XLY started to outperform in January 2008, when the market started falling in earnest. It also showed improvement in October 2000, at the very start of that bear market.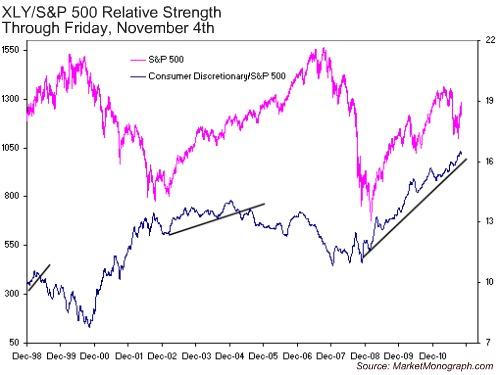 The first two trend lines call attention to the end of periods of outperformance that happened roughly halfway through the last two bull markets. Penetration did not mean a bear market was about to start, but it did show that other sectors were starting to improve.
The fact that consumer stocks are still doing well and have yet to fall below their trend line suggests that, in spite of the brutal volatility we are living with, the market may still have an upward road ahead of it.
— Fred Goodman, a registered investment advisor and Certified Financial Planner, publishes MarketMonograph, a daily, Web-based subscription service specializing in technical stock market analysis and the application of economic indicators to market timing. You can reach him at fred@marketmonograph.com.