When the S&P 500 moves in one direction and your portfolio moves in the other, it is always disappointing and sometimes difficult to understand why. To answer this question, you can use a tool called the diffusion index, which enables you to break down an index of stocks and analyze its components separately. The diffusion index can show the degree to which individual stocks or small groups of stocks are moving with or against the dominant direction of the index.
Professional investors use this tool to allocate a portfolio according to the leading and trailing groups that make up a stock index. I have been using the 41 Fidelity Select Funds to help me find the leading and lagging market sectors. I compute a 45-Week Diffusion Index by calculating the percentage of funds trading above their 45-week moving averages.
The indicator gives a buy signal when the percentage of strong funds, after reaching a low level, increases by 20%. This happened Oct. 13, when the index recovered to 23.7% after reaching 2.6% on Sept. 30. I've marked the buy signal below with a green arrow at the extreme right. That day, the S&P closed at 1,203.66 just one week after hitting a 13-month low.
I have similarly marked all the buy signals since 1996, and I have used red arrows to mark the sell signals since then. A sell signal occurs when the index, having been as high as 85%, falls below 65%. The indicator is imperfect, as are all technical indicators, but when used in concert with other tools, it offers considerable insight about the probable direction of the market.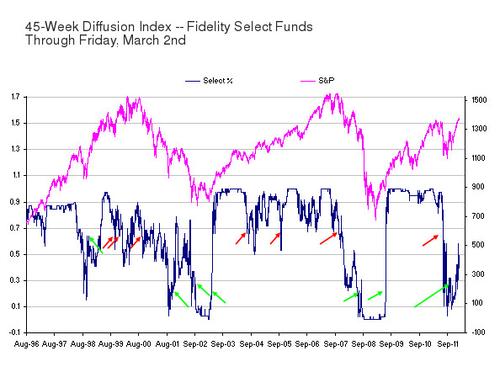 The percentage of Fidelity Select Funds trading above their 45-week moving averages is currently 50%, down from 57.9% last week, which was the highest percentage since the buy signal in October.
As you look at the buy signals (green arrows) since 1996, it is difficult not to notice that the indicator moved up much more rapidly after the buy signals in 2002 and 2008. It is currently doing about as well as it did after the 1998 buy signal, which suggests to me that there is a good chance trouble is ahead. There are other signs of trouble, as well. We noted last week that the S&P often had a pullback when the second leg of a rally equaled the first leg. We also pointed out that the index had failed to close above its price target after weeks of attempting to do so, and that the CBOE ratio of puts to calls was about to increase -- which it has now done.
To these negatives, we can add the fact that the ratio of 52-week highs to lows is turning down, and many other traditional indicators are falling. At times like these, investors who are not of the buy-and-hold persuasion get into cash or other stable assets and take a rest from the market.
— Fred Goodman, a registered investment adviser and Certified Financial Planner, publishes MarketMonograph, a daily Web-based subscription service specializing in technical stock market analysis and the application of economic indicators to market timing. You can reach him at fred@marketmonograph.com.