Austin Holland is a busy man these days. Following a spate of earthquakes in Oklahoma, the seismologist at the Oklahoma Geological Survey has been studying the possibility of a link between the earthquakes and hydraulic fracturing, a process used to extract energy from the ground.
Commonly referred to as fracking, the process is used to create fractures in rock formations to make it easier to extract trapped supplies of oil or natural gas. Typically, it involves the use of high-pressure injections of a mixture of water, sand, or ceramic beads, and various chemicals.
Fracking has been gaining traction in the past decade. But it's also sparked unresolved issues for energy producers and environmental activists. The latest is a possible link between fracking and earthquakes -- or shalequakes, as some are now calling them.
In January, there were 43 earthquakes large enough to be located in Oklahoma. Most of the quakes occurred near a well being fracked in Eola Field in Garvin County.
They ranged in magnitude from 1 to 2.8, which means all of them were too slight to even be considered minor quakes. Then the strongest quake ever hit the state. Earlier this month, a 5.6 magnitude earthquake -- classified as a moderate quake -- rattled Oklahoma.
On average, Oklahoma has about 50 earthquakes a year. But in 2009 and 2010, earthquakes spiked, along with an increase in fracking. Last year, the Oklahoma Geological Survey at the University of Oklahoma in Norman recorded 1,047 earthquakes, of which 103 were felt. The strongest earthquake was a 4.7 magnitude.
All that quaking has people wondering whether there is more than a coincidental link with fracking.
Energy exploration today focuses on geologically complex, deeper, lower-quality reservoirs. Known as unconventional resources, the oil or gas is harder to extract.
Fracking is used to breaking up the concrete-like rocks that trap the energy with high-pressure injections of water and sand, creating vein-like fractures.
Shale gas has been growing at an average annual rate of 48% from 2006 to 2010, according to the US Energy Information Administration, an independent agency within the Department of Energy. And while other technologies are also at play, fracking is the big reason behind the growth.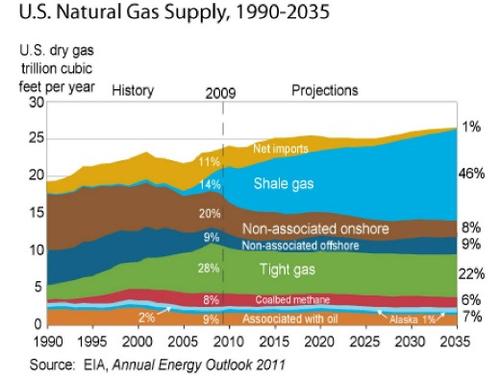 Fracking, combined with enhanced recovery techniques including extended-reach horizontal and directional drilling, has dramatically lowered the cost of extracting shale gas. It has also boosted the yield -- so much so that supply has outstripped demand, resulting in 40% lower gas prices for consumers and an industry with an eye on exporting.
"Hydraulic fracturing might have done more to improve domestic production of oil and gas than any exploration or other technological advance," Holland said.
Holland said his initial findings on the January quakes were inconclusive. After spending more time with the data and looking at it with different techniques, however, he expects to issue a follow-up report that will be more suggestive of a cause and effect relationship.
"It's much more suggestive that it's most likely those earthquakes were caused by the hydraulic fracturing," he told IU. "The problem is the data is limited, and those limitations will never be removed for the data. There's going to be ambiguity no matter what."
It's difficult to link quakes to fracking because minor earthquakes occur naturally all the time. And in areas like Oklahoma where the oil and gas industry is an accepted part of life, fracking is also linked to jobs and quality of life.
Oklahoma is the No. 2 producer of shale gas after Texas, producing 8.5% of the total US gas production in 2009, according to the Oklahoma Policy Institute in Tulsa. Fracking creates revenue for the state and jobs for Oklahomans.
Holland calls fracking "of fundamental importance" to the oil and gas industry.
Other states are also weighing the impact of fracking, including Pennsylvania, Arkansas, Louisiana, and Texas.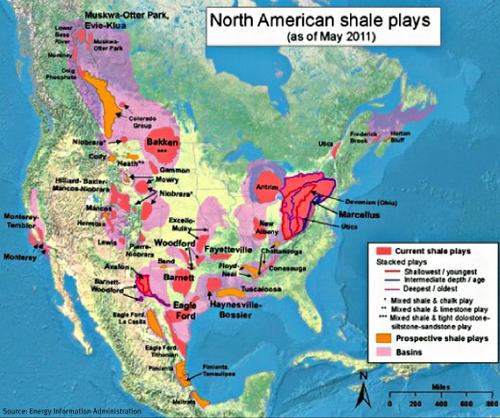 The Barnett shale site in Texas now has 10,000 horizontal wells for fracking, up from 400 in 2004, according to the Energy Information Administration.
The Marcellus Shale, straddling Pennsylvania and New York and extending as far south as Kentucky, is another major play. It could be one of the most promising in terms of production and potential jobs, but NYS is holding back on fracking because of concerns about the environmental effects.
Most of the fracking in the Marcellus centers on Pennsylvania, where active players include Oklahoma City-based Chesapeake Energy Corp. (NYSE: CHK), State College, Penn.-based Rex Energy Corp. (Nasdaq: REXX ) and Texas-based companies Anadarko Petroleum Corp. (NYSE: APC), Range Resources Corp. (NYSE: RRC) and Cabot Oil & Gas Corp (NYSE: COG).
While fracking in the Marcellus has generated concerns among environmentalists, the issues have largely centered on the impact on drinking water supplies. The question of shalequakes has yet to rattle public meetings. But what are the odds that it could?