There was no shortage of business blunders in 2011. In fact, there were so many egregious incidents that it was difficult to decide which rated worse than another did. For example, MF Global initially seemed to be a serious contender for the No. 1 spot, just because of the tremendous amount of money missing from customer accounts.
But Olympus hid $1.7 billion in losses, News Corp. hacked phones to get information about people, Groupon essentially lied about how much revenue it made, and Sony's security breaches, which might have been prevented with better security measures, affected 70 million users. So faced with overwhelming amounts of bad judgment, lack of oversight, questionable ethics, and simple stupidity, I did the only logical thing. I decided to put this Top 10 list in alphabetical order.
Bank of America Corp. (NYSE: BAC)
As if most banks hadn't done enough to get under the skin of their customers, Charlotte, N.C.-based Bank of America's September announcement that it planned to charge customers $5 a month to use debit cards led to outrage by consumer groups and customers. (See: Bank of America 'Sticking It' to Customers.)
Many expected other banks would follow suit, but that didn't happen. Instead, competing banks, which use less conspicuous methods of earning additional revenue, went after Bank of America customers. The fallout led Bank of America to abandon the dubious debit card fee plan -- but not without damage to its reputation.
Groupon Inc.
(Nasdaq:
GRPN
)
Groupon, as IU contributor Michael Shmarak
wrote
, was the poster child for what not to do during an SEC quiet period;
whether it's the company's CEO drafting a memo for the world to see
, its chairman talking about the company at an awards dinner, or random employees posting information on social media networks, no one seems to get the hint that the rules about quiet periods are there for particular reasons.
Then there was the whole issue of misstating its revenue. Months prior to the coupon company's $700 million initial public offering in November, Chicago-based Groupon revealed it miscalculated its revenue, raising doubts about the sustainability of its business model. After discussions with the Securities and Exchange Commission, the company restated its 2010 revenue, cutting it by more than half from $713 million to $313 million. Before the restated revenue, Groupon had been counting the full amount of its online coupon sales as revenue when it didn't actually earn the full amount. A portion of the sale -- a commission -- went to the business owner that provided the goods or services. Groupon's IPO was priced at $20. It's now trading for about $22.
Hewlett-Packard Co. (NYSE: HPQ)
The Palo Alto, Calif.-based company launched its TouchPad tablet in June, but after poor sales, former Chief Executive Leo Apotheker said Hewlett-Packard was exiting the tablet and PC business altogether and to focus on corporate software. The company fired Apotheker and gave him $25 million in severance.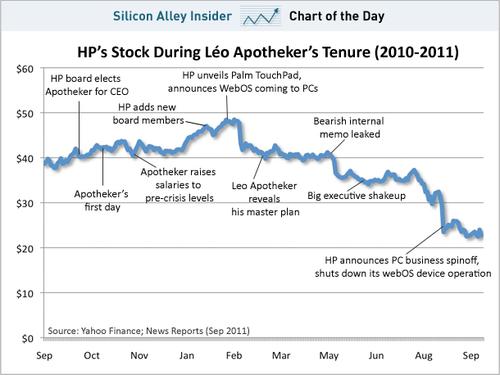 Then it hired former eBay chief executive and failed California gubernatorial candidate Meg Whitman, who said the company wouldn't be getting out of the tablet or the PC business after all. But critics say Hewlett-Packard's products are inferior to competitors, including its tablet. Moreover, the company appears to have a revolving chief executive problem, with several CEOs spanning a few years, and each one receiving large severance packages. Before Apotheker, Mark Hurd received $12 million plus in severance, leaving after claims of sexual harassment. Before Hurd, Carly Fiorina was forced to resign in 2005, leaving with $21 million in severance.