Facebook (Nasdaq: FB) should amass a lot of Likes when it debuts as a publicly traded company. And that is likely to happen sooner rather than later: The Menlo Park, Calif., company may file its paperwork for an initial public offering this week, perhaps as early as Wednesday, according to a report from The Wall Street Journal.
Facebook's initial public offering is being heralded as one of the most anticipated and possibly the largest in history. It's estimated that the company could raise $10 billion, giving it a $100 billion valuation.
While Facebook is grabbing all the headlines, there are other IPOs in the pipeline for 2012 -- about 220. Companies from the technology, social media, energy, and healthcare sectors are expected to drive the market.
The Washington investment company, Carlyle Group LP, hopes to raise $100 million. So do GOGO Inc., an Illinois provider of in-flight Internet access, and Yelp Inc. of San Francisco, which connects people to companies through online reviews. Caesars Entertainment Corp., the owner of 52 casinos worldwide, hopes to raise $50 million.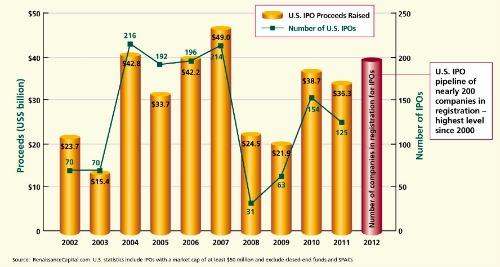 Several companies have filed initial paperwork for IPOs this month. The Denver oil and natural gas company Ute Energy Corp. hopes to raise $250 million. The San Francisco data analysis software provider Splunk Inc. hopes to raise $125 million, and MRC Global, a Houston distributor of pipes, valves, and fittings for energy companies, hopes to raise $100 million.
Others expected to file this year include Chrysler Group LLC and Fisker Automotive Inc., a maker of electric luxury sports cars.
Still, the IPO market remains generally soft, despite some expectations for recovery later this year. The only two deals that were priced this month were for the Iowa biodiesel company Renewable Energy Group Inc. (Nasdaq: REGI), which cut its valuation to complete its offer, and Guidewire Software Inc. (NYSE: GWRE), which boosted its price and rose nearly 32% on its debut last Wednesday. Renewable Energy raised $72 million at $10 a share, but the stock is now trading below the IPO price. Guidewire hit $18 a share on opening day but was trading around $17.30 late Friday.
Don't expect many IPOs this year from Chinese companies listing on US exchanges. "The IPO market has really been driven by China activity in the last several years," says Dan McClory, managing director of Hunter Wise Financial Group LLC, an Irvine, Calif., firm that helps take companies public. Usually, about a third of the IPO pipeline is made up of Chinese companies, such as the search services provider Baidu Inc. (Nasdaq: BIDU), which registered to go public on the Nasdaq in 2005.
"Those deals are really going to fall off," McClory says. That's because of a few well publicized fraud and accounting scandals that led to delistings by the Securities and Exchange Commission. "There's been a crisis of confidence that's developed in that sector."
According to Keating Capital Inc. (Nasdaq: KIPO), 4,088 US companies went public from 1990 to 2000. The following decade, the number dropped 66% to 1,395. And according to Renaissance Capital, the number of companies going public fell from 154 in 2010 to 125 in 2011. (By comparison, there were only 31 IPOs in 2008 and 63 in 2009.)
Investors didn't see much of a return on any of the 2011 offerings. Nearly two-thirds of the companies that went public last year were trading below their IPO prices by yearend, according to Keating Capital.
The San Francisco online gaming company Zynga Inc. (Nasdaq: ZNGA) had the largest IPO of 2011. It raised $1 billion at an $8.9 billion valuation. Groupon (Nasdaq: GRPN) also went public last year and raised $700 million with a valuation of $12.8 billion. It had anticipated raising $3 billion with a $30 billion valuation, but it fell short after restating its financial results to correct an error in the way it recorded revenue.
In the past decade, 2004 and 2007 were the peak years, according to Renaissance Capital. In 2004, there were 216 IPOs, including Google (Nasdaq: GOOG), which had a $1.7 billion IPO. In 2007, there were 214 IPOs -- but, alas, no Google.
A flurry of fourth-quarter IPO activity could signal an improved 2012 market, despite a slow January. In the fourth quarter, there were 28 IPOs, which raised $6.4 billion, according to PricewaterhouseCoopers LLC. "A number of blockbuster IPOs in the last few weeks of 2011 has sparked a renewed confidence in the US IPO market, which bodes well for 2012," Henri Leveque, head of US capital markets and accounting advisory services at PricewaterhouseCoopers, said in a press release.
But not everyone agrees. A recent survey of American transaction attorneys found that most expect 2012 to be another turbulent year for the US IPO market.
KCSA Strategic Communications surveyed 50 securities attorneys, whose firms advised on 70 percent of the IPOs listed on major US exchanges during 2011. A resounding 92% said the 2012 market will be relatively flat when compared with 2011. Many of the attorneys expressed concerns that the market may be experiencing a social media bubble. They cited Groupon as the most overhyped deal of the past year. According to 84% of those surveyed, there is still strong demand for foreign companies to access US capital markets and list on the major US exchanges. One firm called the US the "Holy Grail" for listing, in terms of both perception and liquidity.
Related posts: