Home sales are ticking up, which could lift stocks of homebuilders and ancillary businesses, such as home and garden stores and furniture stores. Pending home sales rose in January, as did sales of previously built homes, according to the National Association of Realtors.
"The uptrend in home sales is in line with all of the underlying fundamentals -- pent-up household formation, record-low mortgage interest rates, bargain home prices, sustained job creation and rising rents," Lawrence Yun, the association's chief economist, said in a press release.
Click the image below for a slideshow of more housing statistics: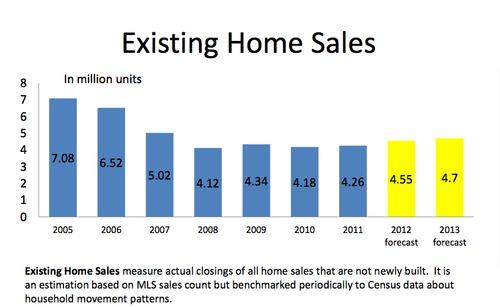 There are numerous homebuilder and home store stocks that stand to gain from the improvement, including the following:
Several others could get a boost, too, though their performance so far this year does not show it:
Many homebuilder stocks fell as much as 50% after hitting a peak before the residential housing downturn. Prices have been trending upward since the homebuilding industry's most recent trough this past October. But there's still plenty of upside as the market improves, and there's still time for investors to make a move while share prices are low.
One signs of life in the housing market is the National Association of Realtors January pending home sales index, which rose 2% from December and 8% from January 2011 to 97. A pending sale means a buyer has signed a contract to buy a house but has yet to close on the deal. The NAR says 80% of pending home sales close within two months.
The index compares the number of pending sales against the healthy sales in 2001, when the index was set at 100. The January index was the highest since April 2010, when it was 111.3. That figure was driven by first-time homebuyers who were taking advantage of a now-expired homebuyer tax credit.
The NAR also said existing home sales rose in January for the fourth straight month. They increased 4.3% from December to a seasonally adjusted annual rate of 4.6 million.
The upward trend in home sales is expected to continue. Existing home sales are forecast to rise 6% this year (to 4.5 million) and 3% next year (to 4.7 million). In 2001, when the housing market was considered healthier, 5.2 million homes were sold.
New home sales are forecast to rise 21% this year (to 370,000) and 37% next year (to 510,000). In 2001, 910,000 homes were sold.
Some markets are recovering faster than others. Miami is booming compared to Las Vegas, for example. In 2011, Broward County, Fla., which includes Miami, set a record for sales, driven by international buyers, who make up about 60% of the homebuyers there. "We sold more homes than ever in history, including the height of the boom in 2005," Lynda Fernandez, a spokeswoman for the Miami Association of Realtors, told us.
Since 2008, inventory of single-family homes and condos has decreased 68% in Miami to 13,610. Miami is seeing buyers from countries like Mexico and India, which haven't traditionally played a big role in the Florida market.
Overall, Florida is the top state for home sales to international buyers and accounts for about 30% of such sales in the US. Many international buyers in Florida are from Venezuela (30%), Brazil (12%), Argentina (11%), Canada (10%), Colombia (8%), Mexico (5%), and France (5%). Homebuyers from the US, including many from New York, are also taking advantage of lower prices and snapping up vacation and investment homes in Florida.
Housing, which led the recession, is following an economy that appears to be on the mend. On Feb. 28, the Dow Jones industrial average closed above 13,000 the first time since 2008. Home Depot rose more than 7% in February and was one of the index's top performers.
Other positive economic signs include lower unemployment, fewer claims for unemployment benefits, higher retail sales, higher auto sales, a higher GDP, a rise in housing starts, and relatively low mortgage rates.
But an economic recovery is fragile. US manufacturing grew less than forecast in February as orders eased, according to the Institute for Supply Management. And outside forces could derail a recovery, such as the European debt crisis or the threat of a military conflict with Iran, which could cause gasoline prices to rise even higher.
A few skeptics even claim we're not even in a recovery. Lakshman Acuthan, head of the Economic Cycle Research Institute, maintains that another recession is looming, and that the trigger may not necessarily be an outside force.
Related posts: