Ask people what makes them happy and you'll get a lot of different responses. Shoes, chocolate, travel, a fast car, beer, money, surfing, fishing, music, friends, family, warm woolen mittens... A Doctor Who marathon on Netflix Inc. (Nasdaq: NFLX), anyone?
Arguably, we're born into the pursuit of happiness, and there are countless books instructing us on how to be happy and scads of advertisers selling us things they say will make us happy. Research shows that money brings happiness -- to a point. But happiness researchers say once we have enough money to provide a certain level of necessities, higher incomes fail to make us happier.
From the first-ever World Happiness Report released at the recent United Nations conference on happiness: "For most individuals in the high-income world, the basic deprivations have been vanquished. There is enough food, shelter, basic amenities (such as clean water and sanitation), and clothing to meet daily needs. In fact, there is a huge surfeit of amenities above basic needs. Poor people would swap with rich people in a heartbeat. Yet all is not well. The conditions of affluence have created their own set of traps."
Some of those "traps" include addiction, mental illness, disease and adverse effects on the environment, such as climate change. Research shows the things that truly make us happy aren't material goodies, but friends, family, community, health, education, and a better balance of work and leisure... all those things that collectively contribute to our sense of well-being.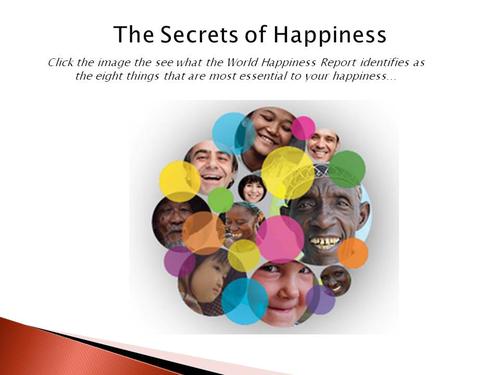 Last summer, the United Nations took the extraordinary step of asserting that Gross Domestic Product was an inadequate measure of a nation's success. In a resolution passed in August, the UN General Assembly noted that GDP "was not designed to and does not adequately reflect the happiness and well-being of people in a country."
The resolution further noted that "unsustainable patterns of production and consumption can impede sustainable development," and that there is a "need for a more inclusive, equitable and balanced approach to economic growth that promotes sustainable development, poverty eradication, happiness and well-being" of all people. The resolution was introduced by the Himalayan kingdom of Bhutan, whose prime minister, Jigmi Y. Thinley, suggested that "gross national happiness" (GNH), based on indicators such as health and living standards, is a better measurement of national prosperity than one based on economic productivity alone.
Thinley thinks it is the responsibility of governments and politicians worldwide, since they have been elected and made responsible for improving the well-being of the people they represent, to create conditions to enable citizens to achieve what they want most in life -- and that is happiness.
Happiness supporters note that GNH emphasizes happier nations, not just richer ones -- and that happier nations are more likely to create sustainable world economies. This kind of happy-talk has been gaining traction, with local and world governments exploring GNH. The French government started publishing its own happiness indicator in 2009, Britain's Office for National Statistics has a program for measuring national well-being, and the Organisation for Economic Co-operation and Development is drawing up guidelines so its members (mostly the industrialized rich countries) can produce "well-being data." And some cities, including Seattle, recently started their own happiness initiatives.
While a focus on well-being may sound to some like tree hugger territory, there is at least one conservative happiness advocate, Arthur Brooks, president of the American Enterprise Institute. Brooks speaks regularly on the topic and even wrote a book about it, Gross National Happiness.
Arthur C. Brooks speaks about why happiness matters at Aspen Institute India.
As you might expect, Brooks's definition of well-being puts more emphasis on religion, marriage, and independence of government, which highlights the difficulty in measuring happiness. How do we agree on what it takes to get happy in the first place?
But I wonder: If a happier nation became the focus, how might that affect the financial markets? Would a happier nation have a positive effect on markets? Or would a focus on happiness inversely affect markets?
One thing seems certain: In a happier nation, there would be less consumption, which would seem to be a drag on most retail stocks.
John Helliwell, professor of economics at the University of British Columbia, one of the editors of the World Happiness Report, suggests that maybe we'd invest in companies for reasons other than sales and profit. His argument: Perhaps companies that start to take well-being research more seriously, and think more about how to build trust and friendly relations among staff and customers, would perform better financially as well, and the stock market might notice.
There hasn't been a lot of research, if any, into GNH's potential effect on financial markets, since the idea behind GNH is that happiness should be measured apart from economic and financial well-being. But maybe happiness and thriving financial markets aren't mutually exclusive.
What stocks might do well in a nation that emphasized happiness? Here are a few of my picks: Netflix, Google (Nasdaq: GOOG), Amazon.com Inc. (Nasdaq: AMZN), Apple Inc. (Nasdaq: AAPL), Big 5 Sporting Goods Corp. (Nasdaq: BGFV), Southwest Airline Co. (NYSE: LUV), Whole Foods Market Inc. (Nasdaq: WFM), and Pfizer Inc. (NYSE: PFE) (for people trying to fix their unhappiness).
What stocks make you happy? Or, rather, which ones do you think would do best if the investment focus shifted to happiness?