Social Finance Inc. offers investors a way to earn 5% to 8% in return for helping cash-strapped students. The premise of SoFi, as it's known for short, is that successful alumni will fund the education of current students, as long as they receive reasonable returns on their investments.
In the world of social investing it's called a "double bottom line" because there is a financial reward and a social reward -- something that helps lift a community of people and solves a social problem. Social investors consider both to be equally important. Otherwise, it's just philanthropy.
"For double bottom line to work, you need to have an economic return that stands on its own," says Mike Cagney, co-founder and chief executive of San Francisco-based SoFi.
Social investing comes in a variety of forms, such as micro lending and venture philanthropy. Some social investments have a "triple bottom line," meaning positive social and economic returns as well as favorable environmental effects. And there are other companies similar to SoFi, including Collanthropy LLC.
"The reason we decided to focus on student loans is because it's a $1 trillion industry but completely broken," Cagney says.
SoFi connects students attending participating schools with potential investors. The investors have the option to engage with students if they like, perhaps by mentoring students, providing career guidance, or eventually tapping them as future hires. "We want to encourage interaction but not make it contrived," Cagney says, adding that SoFi gives investors interested in creating relationships the tools to do so.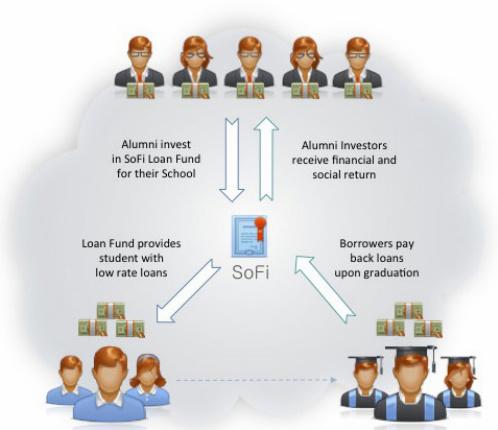 How does SoFi work? Investors -- alumni of a particular school -- pool their money to lend to students who attend their alma mater. The investors will share in the returns when the loans are repaid.
The investment opportunity is open only to alumni, which bolsters the social aspect of SoFi. The idea is that alumni, who care about a particular school and its students, are more likely to be involved, which makes the students more likely to pay back their loans. "It yields to a better set of behavior than what you get out of an anonymous student loan program," says Cagney. "We're borrowing from micro-finance -- you don't want to default on your own community."
Transparency is key, notes Cagney. SoFi investors will always know the status of a given student loan repayment. To lessen the possibility of loan defaults, SoFi has only established loan programs at schools that have low student loan default rates.
These are schools the SoFi founders define as ones where students get "fair market" value for their education -- in other words, where the education is worth the tuition and students graduate with a debt burden that isn't so large that they end up defaulting on their loans. "This program works really well in schools where students are graduating and are able to service their debt. We think it's a signaling mechanism to the school to think about the level of debt versus the education value to the student."
Last year, when SoFi was founded, it piloted a $2 million program at Stanford University's Graduate School of Business, in which 40 alumni funded loans for 100 students. In the first half of this year, SoFi will be lending $100 million in refinance (consolidation) loans across five schools: Harvard Business School, Kellogg School of Management at Northwestern University, MIT Sloan School of Management, Stanford Graduate School of Business, and the Wharton School at the University of Pennsylvania. In the second half of the year, SoFi will broaden its refinance lending to $400 million in at least 40 schools, for a total of $500 million in loans.
Next year, SoFi is targeting lending programs at 325 schools. Right now the program is limited to accredited investors, but that restriction could be lifted in the future, according to Cagney.
SoFi has two programs for investors, who have the option of investing through a tax-deferred IRA or a 401(k):
A whole loan finance program, where investors are considered "whole participants" in the loan pool. For example, if 10 investors chip in $100,000 each, it's a $1 million pool, and each investor owns 10% of the cashflow of the loans, which spreads the risk.



A refinance program, where SoFi uses the pooled capital to refinance student loans for graduates. Refinance loans are funded by both alumni and institutional investors, but alumni investors earn a higher rate of about 8%.
For enrolled students, the loan interest rate is 6.24%, and a consolidation loan for graduates has a 5.99% interest rate. Both rates are lower than unsubsidized federal student loan rates and most private loans from lenders.
SoFi makes money on the difference between the interest rate the student pays and the investors' return, or about 1%. This year, SoFi has the potential to loan $500 million with a 1% spread, equal to about $5 million in revenue.
What do you think of the concept? Would you be willing to invest in students attending your old school?