While the US economy is showing some hopeful signs of strength, caution is warranted because results from the first quarter are distorted by the unseasonably warm winter. The loose monetary policies of the Federal Reserve and the other major central banks may also continue their rollercoaster ride through the markets. The banks keep trying to get the economy on track through the "wealth effect," whereby a rising stock market purportedly induces households to spend more despite underlying weak economies.
Unemployment
Job openings fell 81,000 to 3.46 million in January after a 266,000 pop in December, making it the third decline in the past four months. New hires also fell 30,000 to 4.16 million in January, the second consecutive decline on top of the 80,000 drop in December and down three of the past four months. The silver lining is that total layoffs in January amounted to 1.646 million, down 39,000 from December after an 85,000 decline in that month. Layoffs have dropped, which is great news, but so has the level of people voluntarily leaving their jobs to search for greener pastures, falling 36,000 in January and down now by 76,000 since the end of last year's third quarter, indicating falling worker confidence.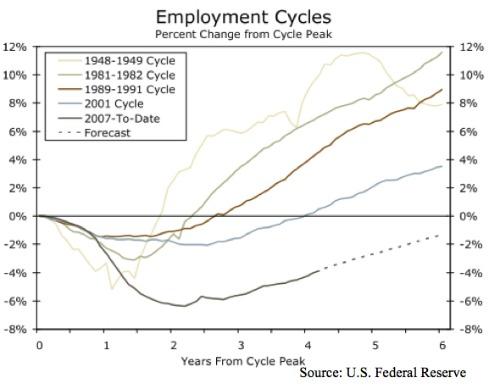 While the employment situation is appearing to improve, the decline in productivity is concerning. Employment is rising, but productivity and GDP growth are falling. Corporate America will not let productivity rates contract indefinitely, so just as we saw last year, the gains seen in the first quarter could be eaten away in the second quarter. From a historical perspective, every time productivity contracts, company hiring trends slow noticeably. Finally, although we are seeing some indications of positive movement, it is still frustratingly slow relative to historical norms as the chart above illustrates. I highly recommend the March 12 article from the Financial Times: "The US labour market is still a shambles" by Nobel Prize winner Joseph Stiglitz.
Housing
US existing-home sales fell by 0.9% in February, surprising the consensus, which anticipated a 1.3% month-over-month increase. Overall home inventory rose to 2.43 million by the end of the month. However, January total sales saw an upward revision, and February sales were still 8.8% higher year-over-year. January and February existing-home sales activity also delivered the strongest first two months of a year since 2007.
On the other hand, the chart below shows that new one-family homes for sale in the US don't appear to be in recovery mode yet.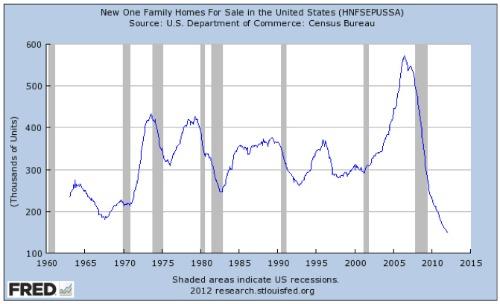 In February, 21 states saw an increase in foreclosures year-over-year, according to Realty Track. According to data through December 2011, released February 28 for the S&P/Case-Shiller Home Price Indices, the leading measure of US home prices showed that all three headline composites ended 2011 at new index lows.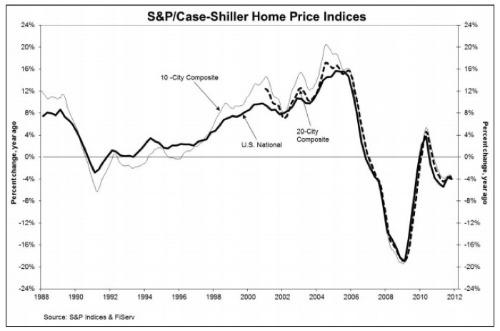 The national composite fell by 3.8% during the fourth quarter of 2011 and was down 4.0% versus the fourth quarter of 2010. Both the 10- and 20-City Composites fell by 1.1% in December over November, and posted annual returns of -3.9% and -4.0% versus December 2010, respectively. These are worse than the -3.8% annual rate reported for November. With these latest data, all three composites are at their lowest levels since the housing crisis began in mid-2006. Bottom line: The largest asset for most households is not yet in an established recovery, which is necessary for sustained improvement in household finances that leads to consumer spending and economic growth.
Spending
Retail sales in February rose 1.1%. The market got particularly giddy about the upwardly revised 0.6% gain in January (originally reported as +0.4%). Real GDP growth in Q1 may be closer to a 2% annual rate than 1%. This represents a slowing from 3% in Q4, which appears to be of little import to the bulls.
While the market got giddy, it is important to go deeper. Retail sales represent only 40% of consumer spending. Real consumer spending is barely growing if we add in spending on services, which is the majority of household outlays. Utility spending has dropped dramatically in recent months due to the warmest winter in some 17 years, generating a huge windfall of approximately $40 billion in savings. That money has gone straight into retail purchases, but this is not a sustainable source of savings. Bottom line: Headlines can be misleading, as there is usually more to the story.
Manufacturing
The New York Empire Index improved in March at 20.21 from February at 19.53. (This index is a regional economic indicator published by the Federal Reserve Bank of New York and released around the middle of the month. It's considered to be an indicator of economic conditions in one of the most populated states in the US.) March represents the sixth improvement in a row and the best level since June 2010. The Philadelphia Fed also rose to an 11-month high of 12.5 from 10.2, but there were indications of slippage in the ISM index to a six-month low of 50.3 from 51.2. Unfortunately in both the Philly and Empire orders slipped as did shipments -- a six-month low for Philly. Bottom line: There are reasons for optimism in domestic manufacturing.