When Steve Lieber found someone had uploaded his indie comic title Underground to the discussion site 4chan in its entirety in 2010, he took action. But he didn't file a lawsuit against a faceless throng of IP addresses. He opened a dialogue with the people who had uploaded and viewed his work.
The conversation brought longtime Underground fans together with people who might otherwise never have heard of the title. They enthusiastically discussed Underground, Steve Lieber, and comics in general. The result? A sharp spike in sales of Underground, as charted by the author: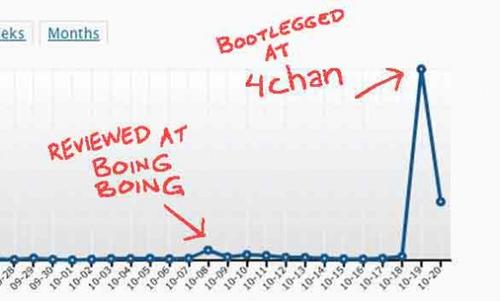 Paul Coelho had a similar experience back in 2008. Launching a blog named Pirate Coelho, he personally uploaded digital copies of his books on to sites like Piratebay, Rapidshare, and Bittorrent. After his experiment, he noted a surge in book sales. The Alchemist, originally published in 1988, jumped to No. 6 on the New York Times Best Sellers list. The Witch of Portobello, which was published in 2007, found its way on to the extended Times list.
Though seemingly isolated, these incidents back up an assertion that was being made long before SOPA (which we've discussed previously) hit the floor of the House of Representatives: Piracy is not a problem of the magnitude it's presented to be.
Consider the following PSA put together by the National Crime Prevention Council, which seems to suggest that organized crime sustains itself by selling bootleg DVDs out of sidewalk stands.
Studies have indicated that piracy can have an indifferent effect, if not a benign one, on record and movie company profits. These studies are not typically at the forefront of piracy discussions -- possibly because, as the Social Science Research Council notes, piracy scholarship is dominated by industry-sponsored research.
A 2011 study by the Research Institute of Economy, Trade, and Industry found that YouTube and file-sharing programs, particularly Winny, do not apparently hurt anime DVD sales in Japan. In some cases, the study said, these sites increase sales. Older studies, such as those conducted by Jupiter Research in 2002 and at Canada's University of London in 2004, reached similar conclusions about the effect of file sharing on CD sales.
More recently, pro-piracy advocates received some support from the US government itself. A Government Accountability Office report summarized an investigation (conducted at the behest of Congress) of damages claimed by the Recording Industry Association of America and the Motion Picture Association of America. Though the report endorsed the oft-claimed effects of piracy, it also acknowledged the potential benefits and called piracy a form of marketing that could lead to purchases of legal goods.
The report also said quantifying the monetary losses incurred by the US economy from piracy was "difficult, if not impossible," due to the limitations of available methodology and the variety of goods and industries subject to piracy.
Topping it all off, a Spanish judge has issued a first-of-its-kind ruling in favor of a defendant accused of piracy. "It is not possible to determine the damage and corresponding compensation due to loss of benefits to the rightsholder, for the simple reason that customers of pirated copies externalize their decision not to be customers of music and movies as originals, so there is no profit that could have been gained," the ruling said.
Piracy is indeed harmful in some capacities, though the demonstrated benefits could teach the makers and distributors of intellectual property a lesson. In this digital age, it might be necessary to find new means of advertising and selling goods, and it might be beneficial to stop lobbying and start innovating.