The transition to digital technology has been marked by intransigence by industry giants across virtually every field. As we've discussed before, Hollywood and record labels are more interested in trying to find ways to lobby and litigate their way back in time. Until recently, major comic book companies like Marvel (a subsidiary of Walt Disney Co. (NYSE: DIS) and DC Comics (a subsidiary of Time Warner Inc. (NYSE: TWX)) tried to rope customers into sticking with physical issues of popular titles by releasing the same issues in a digital platform at random, later dates.
The newspaper industry, though maybe not so overtly resistant to digital media, has adjusted just as slowly -- and it's paying for that. "All the News That's Fit to Print" is well on its way out. A study from the Council of Economic Advisers and LinkedIn Corp. (NYSE: LNKD) show that the newspaper industry is declining faster than any other industry in the United States, shrinking 28.4% from 2007 to 2011 alone.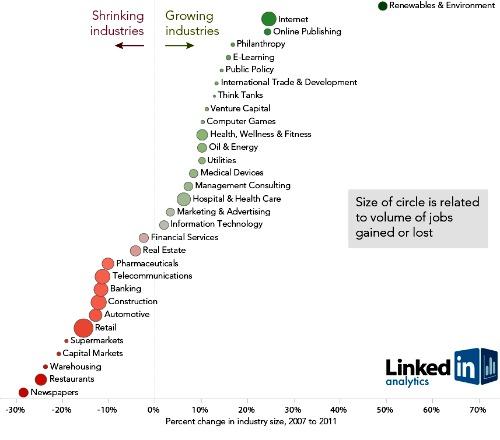 Ad revenue has been steadily decreasing as the Internet and TV supplant the newspaper as quicker, more reliable forms of news distribution. Staff cutbacks are an industry norm as newspapers are shopped around for fractions of what they were worth just a few years ago. All this is taking a toll on the stock prices of publicly traded news companies.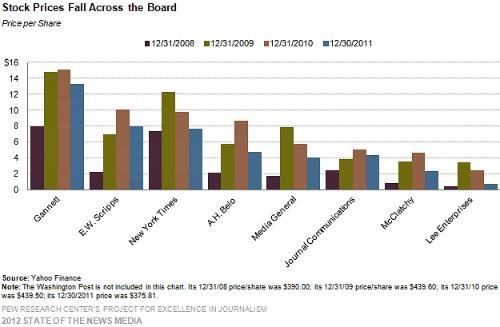 The most recent attempt to stanch the industrywide bleeding is the general implementation of paywalls, which place a limit on the number of articles visitors can read online before they're forced to subscribe. The much beleaguered Los Angeles Times, which is owned by the privately held Tribune Company, implemented a paywall on March 5. More papers are following suit. The New York Times and the Boston Globe (both owned by The New York Times Co. (NYSE: NYT)), the Milwaukee Journal Sentinel (NYSE: JRN), the Star Tribune in Minneapolis (which emerged from bankruptcy in 2009 as a privately held company), the Dallas Morning News (owned by A.H. Belo Corp. (NYSE: AHC)), and others already have them in place.
According to News & Tech, about 150 of the nation's 1,350 dailies have implemented some form of paid digital content. Another 100 papers are expected to adopt similar models this year.
The question, of course, is whether people will still pay for their news.
There is some reason to believe they will. Statistics show the NYT boasts a digital subscription rate of about 380,000, or half of its print readership. The Wall Street Journal, which is owned by News Corp. (NYSE: NWS), has been restricting access to online content far longer than its peers, and it has 537,000 digital subscribers. The Financial Times, owned by Pearson plc (LSE: PSON NYSE: PSO), has about 250,000.
However, these three cases may be the exception, rather than the rule. The vast majority of readers appear to be choosing from the numerous free news sites and blogs. Further, the NYT, WSJ, and Financial Times are preeminent newspapers. The latter two implemented paywalls long before this affliction began in earnest, and they have likely accrued a "fan base" of sorts among the newspaper-reading cohort that contribute to the subscription numbers.
Maybe not surprisingly, the future of newspapers appears to be in tablets and smartphones. The Pew Research Center's Project for Excellence in Journalism said in its State of the News Media 2012 report that the growth of portable devices is affecting the way people consume news.
People who read the news on laptops and desktops commonly use Google topic searches, the report said, but tablet and smartphone readers are more likely to use applications made by specific news organizations. This harkens back to the "fan base" that has made pay-to-read news sites work for some papers.
As tablets and smartphones continue to grow in popularity, they could become the main medium of "print" distribution. In the future, will we be reading "All the News That's Fit to Pixelate?"