Japan's high-speed railway, known as shinkansen, is a remarkable engineering accomplishment. The frequency and efficiency with which this system runs has been incredible to read about.
Japan's first high-speed railway, the Tokaido Shinkansen, opened in 1964 with traveling speeds of up to 130 mph. Today every major city is accessible via shinkansen, which run at average speeds of between 170 and 186 mph and depart with frequencies that rival the New York City subway system. Four hundred trains travel the Tokaido Shinkansen (which, remember, is only one of six shinkansen lines) daily, arriving in increments of about three minutes each with an average delay time of 0.1 minutes, typically because of climatic impediments, such as heavy snow.
This speed, efficiency, and dependability, along with its carrying capacity are what make shinkansen an integral part of daily commuting in Japan -- and an important contributor to the Japanese economy.
In a 1994 report, Features and Social Economic Effects of Shinkansen, Hiroshi Okada, a Japanese civil engineer, demonstrated the social savings -- a growth accounting technique used to measure the economic implications of new technologies -- realized by Japan with the advent of the shinkansen.
In his report, Okada calculated that if 85 percent of the total passengers on the four shinkansen lines that then existed shifted from conventional lines, the annual time saving calculated from the difference in schedule times between the shinkansen and conventional lines would be about 400 million hours. By calculating the value of the time per hour from the GDP per capita, he determined the value of the time saving to be about 500 billion yen (about US$5 billion, based on October 1994 conversion rates) a year.
A slight caveat: Okada doesn't specify how much time per passenger is saved, opting instead to give the above total. This is important because, while it is clear time is saved by the use of shinkansen instead of conventional trains for transportation, what is most important is if the time saved can be put to any good use. A savings of seconds per person over a large cohort is ultimately less useful than a savings of minutes or hours per person in one that is smaller.
The possibility of such time savings is a common rationale for general investment in public transportation. The theory goes that improved public transportation -- "improved" meaning faster, more efficient, and more reliable -- can increase business productivity by attracting new public transit passengers, thereby reducing road congestion and increasing employer access to skilled labor.
How a high-speed railway in America would stack up to shinkansen remains to be seen, however. Current plans for high-speed rail in the US seem somewhat limited, eliminating the possibility of its use as a mode of daily commutation and offering little access to a large swath of the country.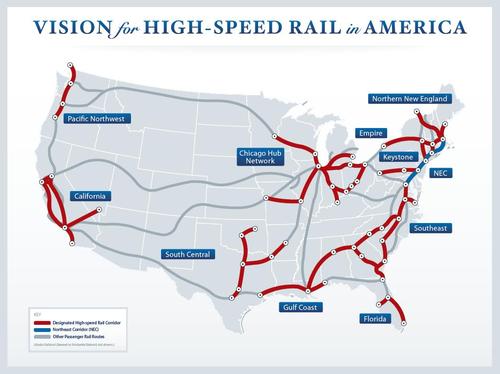 Long term, the vision seems to improve, allowing for easy access to urban public transit networks from high-speed rails and high-speed access to various medium- and high-population cities.
You can read more about the effects of congestion on economic factors in the National Cooperative Highway Research Program Report 463 and the American Public Transportation Association's Economic Impact of Public Transportation Investment.
Related posts: