Is there anyone who doesn't like getting mail?
Like a daily dose of Christmas, my heart pumps a little harder when my eyes alight on an envelope with my name on it. What an absurdly low APR I can get by simply applying for this Discover card! You mean to tell me that when I buy one pint of ice cream at ShopRite, I get one...free? Surely this must be some sort of holiday! But no -- it is every day. It is the beauty of the United States Postal Service, illuminating my days with its paper presents.
What a gray existence it would be without such tiny reminders of corporate generosity.
But such a day might well come as the USPS, the modern incarnation of a 227-year-old monolith of letter handling, struggles to stay afloat in this less than favorable economic climate.
The USPS is an unusual business entity. Though it might appear to be a federal agency (I thought it was), it was established as separate from the United States government under the Postal Reorganization Act of 1970. That act abolished the United States Post Office Department, which was part of the cabinet, and created the United States Postal Service, a corporation-like independent agency with an official monopoly on the delivery of mail in the US.
The USPS is operated entirely on its own revenue, which was about $65.7 billion in 2011. A modest number, to be sure -- but probably enough to run most businesses on.
But revenues can't keep up with expenses at the USPS, which lost $5.1 billion last year, and another $3.2 billion in the first three months of 2012, up from a loss of $2.2 billion during the same period a year earlier.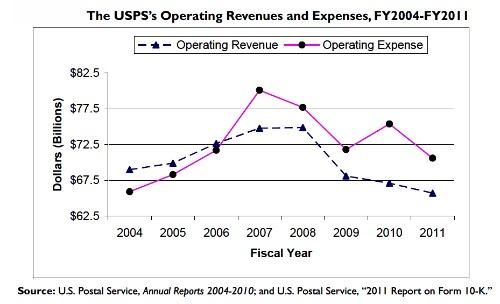 So what's killing the USPS? A general decline in mail in the years following the economic downturn and consistently high (as in, 80%-of-the-company's-budget high) labor costs have undoubtedly had an effect.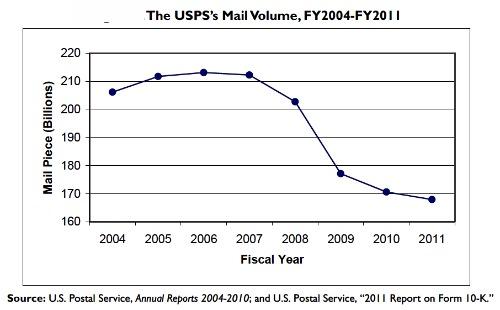 But a majority of the blame rests on a feature of the Postal Accountability and Enhancement Act (PAEA) of 2006, which requires $103.7 billion to be paid into a fund to provide for the health benefits of future retirees by 2016. That's future retirees only, while the USPS is still required to pay for the health benefits of people who are actually working, right now, and gearing up for retirement.
The healthcare benefit payments required by the bill have become so unwieldy that many are asserting that the USPS would have no financial problems without them. In a September 2011 letter to Congress, Ralph Nader pointed out that by June 2011, the USPS "saw a total net deficit of $19.5 billion... [which] almost exactly matches the $20.96 billion the USPS made in prepayments to the fund for future retiree health care benefits." In other words, Nadar contends, without the retirement payments, the USPS would have been about $1.5 billion in the black.
Unfortunately, there looks to be no change in the Postal Service's fortunes. Solutions to the agency's fiscal woes come frequently in the shape of service cuts (operation hours have already been cut at 13,000 low-traffic offices, and Saturday service is due to stop in two years), and rarely ever include alterations to PAEA mandates outside of delaying payments.
Additional fixes have come in the form of dismantling the USPS and giving mail delivery over to private companies, and speculation as to the possibility of putting as much as 2.5% of USPS employees into a form of semi-retirement, where they would receive an annuity and part-time payment. Other possible plans involve raising rates beyond inflation, possible plans to allow the USPS to expand into other markets, and using retirement-fund surplus (presumably meaning the $82 billion the USPS inadvertently overpaid into the Civil Service Retirement System and Federal Employees Retirement System between 1972 and 2009) to provide retirement incentives for those who are eligible.
As it stands, the $3.2 billion the USPS has already lost in 2012 is attributed primarily to putting aside money for this year's $11.1 billion payment to the retirement fund. Mail volume fell some 4.1%, while package shipping revenue was up 13% over last year. The Postal Service expects to default on 2012 payments unless Congress acts soon.
So help the Postal Service, Congress. If not for us, then at least for the children who are going to be born, grow up, and retire on the money that you're strangling the USPS with today. The alternative, some suggest, is the failure of the entire US mailing industry, which depends on the USPS -- and a loss of some $1 trillion in annual revenue and 7 million jobs. Quite the impasse.