R. Scott Raynovich, Editor in Chief, Investor Uprising
The Best of Biotech: Life-Sciences Innovation

In "The Best of Biotech: Life-Sciences Innovation" we review the top trends in the biotech sector, break down some of the leading market segments, and provide a list of the leading companies. In addition the report includes a guide to entering the market via ETFs, mutual funds, or a model portfolio of individual biotech stocks that we have selected.


Release date: July 27, 2011

All That Glitters: The Ultimate Gold Report

"All That Glitters: The Ultimate Gold Report" looks at the primary drivers of the gold market and provides a fundamental analysis determining at what ranges gold could be overvalued or undervalued. Our analysis tells the reader what to further expect from the gold market, while outlining the warning signs of what could stop any advance. The 28-page report looks at four historical metrics for evaluating the gold price and combines these metrics in a unique methodology to project potential price targets for the gold bull market move. The report also evaluates the leading gold-mining companies and tells you which firms could be the best valuation, based on an analysis of their earnings, production, and reserves.


Release date: April 20, 2011

Investor Uprising

offers a premium research service,

IU Confidential

, which uses independent market and fundamental analysis to find the most successful and undervalued companies in exciting growth markets.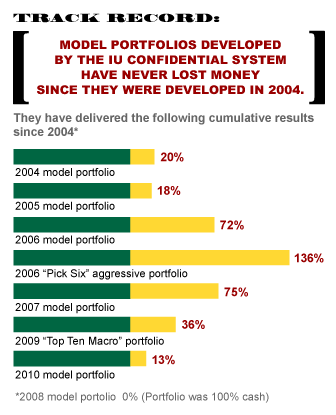 By subscribing to IU Confidential, you receive:

Advanced notice of significant business developments in exciting growth markets

Thoroughly independent analysis of specific vertical market developments using a network of top experts and proprietary company research

Domain expertise in growth areas such as cloud computing, biotechnology, media, commodities, and clean energy

We use a proprietary, disciplined research and screening system to identify the best companies in the world. Better yet, we identify the best companies trading at reasonable valuations.
An IU Confidential subscription brings you:

Six special reports per year (15-25 pages in length)

News alerts on market developments

Access to premium areas of the Investor Uprising Website.
IU Confidential offers premium research at an affordable cost. All products are delivered digitally, via PDF, and can be accessed in our online archives.
Report subscriptions are available at these incredible introductory values:
$1,250: Individual annual subscription
$10,000: Enterprise license
Single reports are available at the following standard prices:
$500: Single-user license
$4,000: Enterprise license