Length: 28
Price: $500

28-page report includes key gold market drivers and technical analysis

Full analysis of four quantitative metrics for evaluating the price of gold, including our projections for potential price targets

See why gold could reach $2,000, $3,000, or higher based on historical quantitative measures



Top gold-mining stocks based on proven reserves and earnings valuations

Full analysis of the US monetary base and its impact on the gold price

Supply/demand in the gold market

The impact that China is having on gold
The report includes an analysis of the top profitable gold-mining companies. Companies included in this report:

Agnico-Eagle Mines
(NYSE: AEM)

AngloGold Ashanti
(NYSE: AU)

Barrick Gold
(NYSE: ABX)

Buenaventura
(NYSE: BVN)

Eldorado Gold
(NYSE: EGO)

Gold Fields
(NYSE: GFI)

Goldcorp
(NYSE: GG)

Kinross Gold
(NYSE: KGC)

Newmont Mining
(NYSE: NEM)

Yamana Gold
(NYSE: AUY)
Length: 28
Price: $500
All That Glitters: The Ultimate Gold Report
Bull markets climb a wall of worry. What's been remarkable about the current gold bull market, which by most measures started in 2000, is the high degree of worry that has accompanied the rise in the price of gold. The gold skeptics still decry the gold rally – which has now quintupled the price of gold in less than 10 years – as some sort of hocus-pocus, or figment of the imagination.
But the facts are undeniable: Gold has been the best major asset class of the last decade. Better than stocks, better than bonds, and certainly better than real estate. The gold skeptics have been wrong, for a variety of reasons. And our research shows they will likely continue to be wrong.
Make no mistake about it: The rally is real, and the gold bull market will continue for at least another two years. This report tells you why. In fact, our proprietary analysis tells you exactly how high the price of gold will go. We're sticking our neck out, because we are that confident in our analysis.
Read this report and find out our gold price target!
It's important to understand what's driving the gold bull market. This report explains several basic structural trends:
Rising levels of sovereign debt in developed Western nations. Gold is sought during times of extreme debt.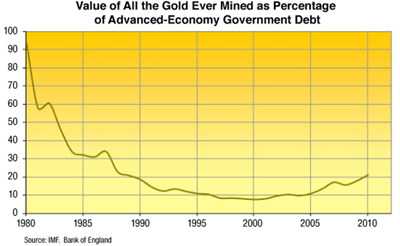 The "Mad Max" Factor. With rising levels of debt, financial strain, and food inflation putting pressure on governments worldwide, it's no surprise that social upheaval is on the rise.


A distrust of fiat currencies. Gold is rallying against just about every global currency as central banks pursue more accommodative monetary policies, promote negative real interest rates, and enlarge deficits, all of which threatens the fundamentals of their currencies.


Demand for hard assets and commodities, driven by growth in Asia. The Asian growth story has driven demand for all manner of hard assets and commodities, including gold, copper, silver, oil, soybeans, and corn.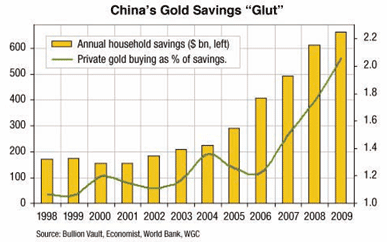 Negative real interest rates. Gold historically performs well during times of negative real interest rates (a real interest rate is the central bank's lending rate minus the inflation rate).


Increased demand and tighter supply in the physical market. Gold consumption is increasing. Production is not keeping up.
This report describes the effect of each of these "bull-market drivers" in detail, and tells you how and why many of them are likely to continue. Unlike many newsletter opinions, the report goes into detailed analysis of likely price points gold could reach relative to quantitative measures of some of these drivers.
This comprehensive report describes:
Market Drivers: Why Is Gold Rallying?
Price Targets: How High Is Too High?
Analysis of the Gold Price Valuation
How to Own Gold
The Top Mining Companies
The Risk Factors

To view reports you will need Adobe's Acrobat Reader. If you do not have it, it can be obtained for free at the Adobe web site.


Investor Uprising

offers a premium research service,

IU Confidential

, which uses independent market and fundamental analysis to find the most successful and undervalued companies in exciting growth markets.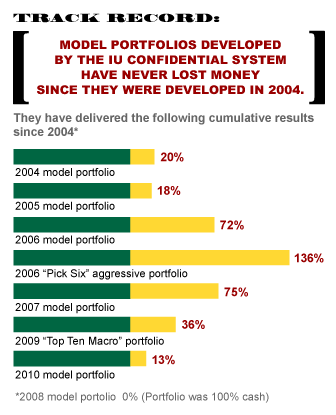 By subscribing to IU Confidential, you receive:

Advanced notice of significant business developments in exciting growth markets

Thoroughly independent analysis of specific vertical market developments using a network of top experts and proprietary company research

Domain expertise in growth areas such as cloud computing, biotechnology, media, commodities, and clean energy

We use a proprietary, disciplined research and screening system to identify the best companies in the world. Better yet, we identify the best companies trading at reasonable valuations.
An IU Confidential subscription brings you:

Six special reports per year (15-25 pages in length)

News alerts on market developments

Access to premium areas of the Investor Uprising Website.
IU Confidential offers premium research at an affordable cost. All products are delivered digitally, via PDF, and can be accessed in our online archives.
Report subscriptions are available at these incredible introductory values:
$1,250: Individual annual subscription
$10,000: Enterprise license
Single reports are available at the following standard prices:
$500: Single-user license
$4,000: Enterprise license