Length: 16
Price: $500

16-page report outlines the key trends in the biotech market

See why biotech has outperformed the general market for the last five years

Coverage of 18 leading biotech companies

Analysis of which companies are the best value

Full financial metrics for all companies

Model biotech portfolio includes our Top Ten Picks for the biotech investor

Analysis of leading biotech segments, including diagnostics and biopharmaceuticals

Overview of the best biotech mutual funds
Public companies covered in this report:

Abaxis
(Nasdaq: ABAX)

Alere Inc.
(NYSE: ALR)

Alexion Pharmaceuticals Inc.
(ALXN)

Amgen Inc.
(AMGN)

Biogen Idec Inc.
(Nasdaq: BIIB)

Biomarin
(Nasdaq: BMRN)

Celgene Corp.
(Nasdaq: CELG)

Cubist Pharamaceuticals
(Nasdaq: CBST)

Exact Sciences Inc.
(Nasdaq: EXAS)

Gilead Sciences Inc.
(Nasdaq: GILD)

Idexx
(Nasdaq: IDXX)

Illumina Inc.
(Nasdaq: ILMN)

Life Technologies
(Nasdaq: LIFE)

NeoGen
(Nasdaq: NEOG)

Seattle Genetics
(Nasdaq: SGEN)

Sequenom
(Nasdaq: SQNM)

Regeneron Pharmaceuticals Inc.
(Nasdaq: REGN)

Vertex Pharmaceuticals
(Nasdaq: VRTX)
Length: 16
Price: $500
The Best of Biotech: Life-Sciences Innovation
Investors have long been attracted by the innovation and potentially large returns in the life sciences and biotechnology sector. In the past five years, biotech has emerged as one of the best performing technology sectors, according to numerous indices and funds. One leading biotech index, the Nasdaq Biotechnology Index, was recently up 35% over the last five years.

There are good reasons to consider biotech investments. Recent breakthroughs with new drugs and devices are boosting the productivity of medical treatment, saving and extending lives. Healthcare is one of the largest growing segments of the global economy. In addition, the biotech sector remained a relative port in the storm during the financial crisis of 2008, declining less than other markets. This is because it is viewed by investors as a long-term market of medical innovation, rather than a market susceptible to short-term swings in the economy.

In this report, we review the top trends in the biotech sector, break down some of the leading market segments, and provide a list of the leading companies. In addition the report includes a guide to entering the market via ETFs, mutual funds, or a model portfolio of individual biotech stocks that we have selected.

This comprehensive report aims to give you the big picture on the biotech market.

Table of Contents:
Introduction: Life-Sciences Innovation Overview
- Pg. 2
The Top Biotech Trends
- Pg. 3
Market Overview: Key Markets and Companies
- Pg. 5
Top Biotech Picks: A Model Portfolio
- Pg. 11
Biotech Mutual Funds and ETFs
- Pg. 12
Conclusion: Biotech a Key Sector for Innovation
- Pg. 15
Appendix: Financial Metrics
- Pg. 16

To view reports you will need Adobe's Acrobat Reader. If you do not have it, it can be obtained for free at the Adobe web site.


Investor Uprising

offers a premium research service,

IU Confidential

, which uses independent market and fundamental analysis to find the most successful and undervalued companies in exciting growth markets.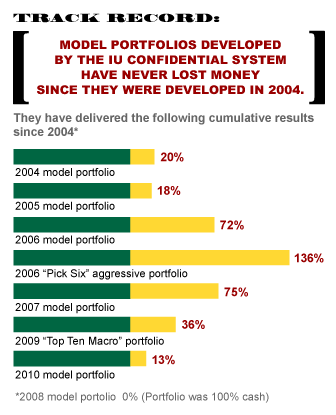 By subscribing to IU Confidential, you receive:

Advanced notice of significant business developments in exciting growth markets

Thoroughly independent analysis of specific vertical market developments using a network of top experts and proprietary company research

Domain expertise in growth areas such as cloud computing, biotechnology, media, commodities, and clean energy

We use a proprietary, disciplined research and screening system to identify the best companies in the world. Better yet, we identify the best companies trading at reasonable valuations.
An IU Confidential subscription brings you:

Six special reports per year (15-25 pages in length)

News alerts on market developments

Access to premium areas of the Investor Uprising Website.
IU Confidential offers premium research at an affordable cost. All products are delivered digitally, via PDF, and can be accessed in our online archives.
Report subscriptions are available at these incredible introductory values:
$1,250: Individual annual subscription
$10,000: Enterprise license
Single reports are available at the following standard prices:
$500: Single-user license
$4,000: Enterprise license